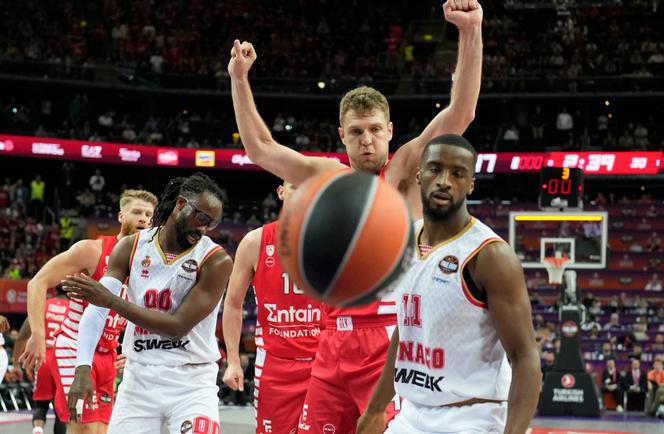 Despite a twelve-point lead at half-time (41-29), squandered in a nightmarish third quarter, Monaco lost in the semi-finals of the Euroleague basketball against Olympiakos (76- 62), for his first participation in the Final Four, Friday May 19 in Kaunas (Lithuania).
French basketball will have to settle for having brought back a representative in the last four of the most prestigious European competition for the first time since Asvel (Villeurbanne) in 1997, but will have to wait to find a successor in Limoges, the last club to have been crowned, in 1993.
ASM, still in the French third division nine years ago and participating in only its second Euroleague season, will try to get on the podium on Sunday (4 p.m.) against the loser of the other semi-final, played in evening between FC Barcelona and Real Madrid.
Catastrophic third quarter
After winning their two regular season meetings against the Greeks, the Monegasques lost the double or quits after experiencing a huge air hole in the third quarter (from 41-29 at the break to 43-56 ). They only scored two points (27 conceded), after nearly six minutes and on a counterattack.
Thirteen points behind at the start of the last quarter, Monaco could not catch up even if they stopped the bleeding, falling back below the ten point mark (55-64) five minutes from time. a comeback quickly annihilated by Olympiacos (70-57 two minutes from the end).
The Roca Team will be able to retain for the future its first period almost perfect, where it foiled by an in place and aggressive defense the Greeks (eight lost balls) not very skilful (4/12 at two points and only 50% at free throws ). She had acquired her twelve-point lead after a high-level end to the second quarter.
While Olympiacos came back tied at 22-22, Jordan Loyd restarted the Rock machine with an award-winning shot, then Elie Okobo finally returned to his match (5 points in the last two minutes) and Mike James (13 points at halftime) put the lid on by returning his three free throws (41-29). But, like all of ASM, the Monegasque rear triplet died out after the break.