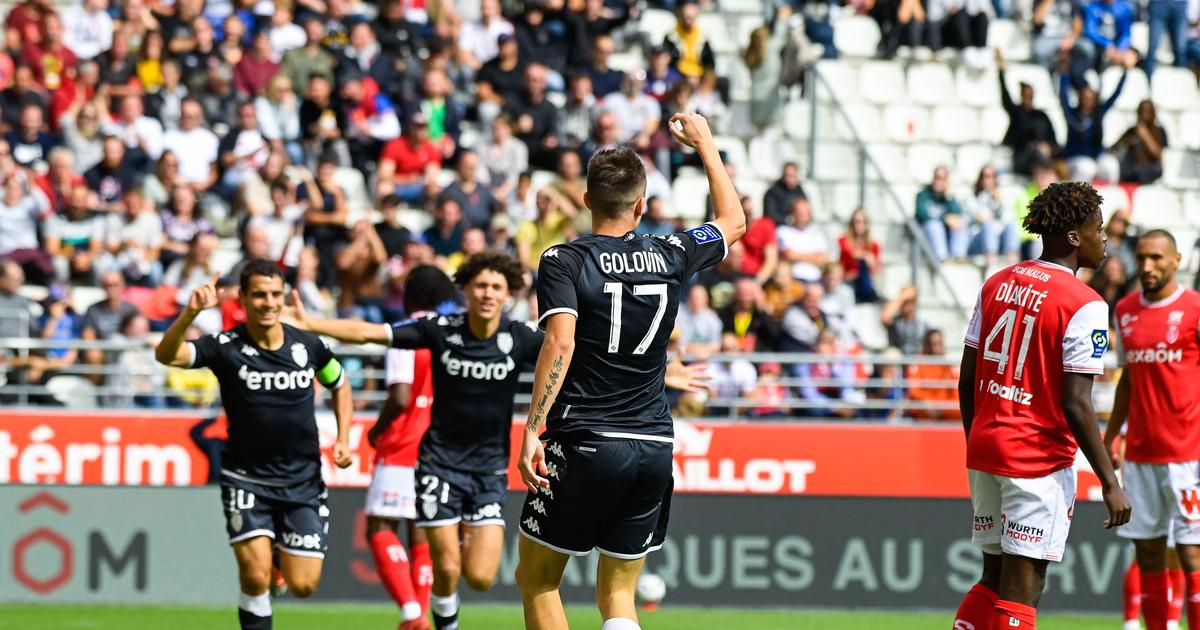 The Principality's club won on the occasion of the 8th day on the ground of the Rémois, too quickly reduced to ten (0-3).
Three days after an unexpected defeat against Ferencvaros in the Europa League (0-1), Monaco reacted well by going to win in Reims (0-3), Sunday during the 8th day of Ligue 1. ASM, which needed to be reassured after his European disappointment against the Hungarians on Thursday at Louis-II, succeeded in his mission with difficulty against the Champenois quickly reduced to ten, thanks to goals from Aleksandr Golovin at the very start of the second period (47th) and by Takumi Minamino (87th) and Wissam Ben Yedder (90th) at the end of the game.
Thanks to this third consecutive victory in the league, the Azureans continue their rise in the standings since they are provisionally in fifth place with 14 points, five less than the surprising third, Lorient. Dominating against the courageous Rémois, who are dangerously close to the relegation zone (16th with 6 units on the clock), the players of the Rock however lacked efficiency and made goalkeeper Yehvann Diouf shine, tenured for the first time from his career in L1 in place of Austrian international Patrick Pentz.
Reims had started the game very well with a first attempt from Arber Zeneli captured by Alexander Nübel (4th) then a lobbed shot from Folarin Balogun who died above the Monegasque goal. ASM, quickly deprived of their right side Ruben Aguilar, hit in the left foot and replaced by Venderson (11th), had a lot of trouble setting up their game and had to wait until the 21st minute to be dangerous. Diouf then made a decisive double save in front of Breel Embolo then Ben Yedder.
Locko's severe exclusion
The scenario of the meeting changed in stride with the extremely severe exclusion of Champenois Bradley Locko, guilty of a totally involuntary sole on Embolo during a clearance (22nd). Monaco then began to lay siege to the Reims surface, without success until the break, while Reims got an opportunity through Marshall Munetsi, whose powerful shot was captured by Nübel (34th).
Back from the locker room, ASM finally managed to make the difference: on a cross from Axel Disasi, Golovin placed a nice diving header to open the scoring (0-1, 47th). The Azureans then dominated the rest of the meeting copiously, but lacked realism, like Mohamed Camara (53rd) and Ben Yedder (64th), who came up against Diouf. They even scared each other since Emmanuel Agbadou found the crossbar from a corner and the goal in the wake of Balogun was refused for offside (61st). Eventually, Minamino (87th) and Ben Yedder (90th) secured victory and cured Monaco's goal difference in the dying minutes.