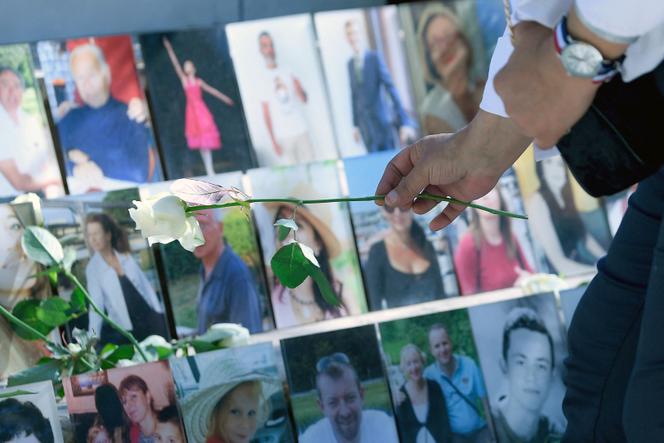 From what moment, and from what place, can one be recognized as the victim of an attack? five months later the verdict of the criminal trial of the attack of July 14, 2016, which left 86 dead and more than four hundred injured on the Promenade des Anglais, in Nice, the specially composed ize Court of Paris answered this thorny question, Friday, May 26.
In its civil judgment, it accepted the vast majority of the 2,542 requests for the constitution of civil parties, which include the direct victims (present on the scene), as well as their relatives, and rejected 337 of them. low, the number of people dismissed is however higher than during the trial of the attacks of November 13, 2015, known as "V13", where only 46 civil parties out of 2,364 had been declared inadmissible.
This difference is partly explained by the modus operandi of the Nice attack and the difficulty of defining its perimeter. That evening, shortly after 10.30 p.m., the terrorist had launched his 19-tonne into the crowd while driving on the sidewalk of the southern carriageway of the Promenade des Anglais, while some 25,000 people were present on the seafront to watch the fireworks. The deadly race of the truck, which stretched over 1,850 meters, had lasted four minutes and seventeen seconds.
Extension of the perimeter of the attack
But did you have to be in the path of the truck to be considered a victim? The court considered that this perimeter was too restrictive to show the full extent of the trauma of the attack. Besides "persons directly exposed to danger"that is to say those which were on the trajectory of the truck, she therefore recognized among the "direct victims" those who, "given their proximity to the crime scene, could legitimately believe themselves directly exposed to a risk of death or injury".
Thus, on certain parts of the trajectory of the 19-tonne, the yard has widened the perimeter of exposure to danger beyond the sole southern carriageway of the Promenade, by integrating beaches, the stairs leading to them, but also segments of the North roadway and the corner of adjacent streets. On the other hand, persons who have been victims of "crowd movements or panic" outside this perimeter.
For mee Gérard Chemla, who represents seventy-five civil parties, this decision is "in the continuity of the evolution initiated by the civil hearing of the trial of the attacks of November 13, 2015, which had already proposed a rather broad vision of the constitution of a civil party". The civil judgment of "V13" had, in fact, deemed admissible people who were in restaurants close to the coffee terraces taken as targets, "these establishments could have been targeted given the random or at least extensive perimeter of the shots".
You have 44.68% of this article left to read. The following is for subscribers only.