Moving concert in Los Angeles by Elton John on farewell tour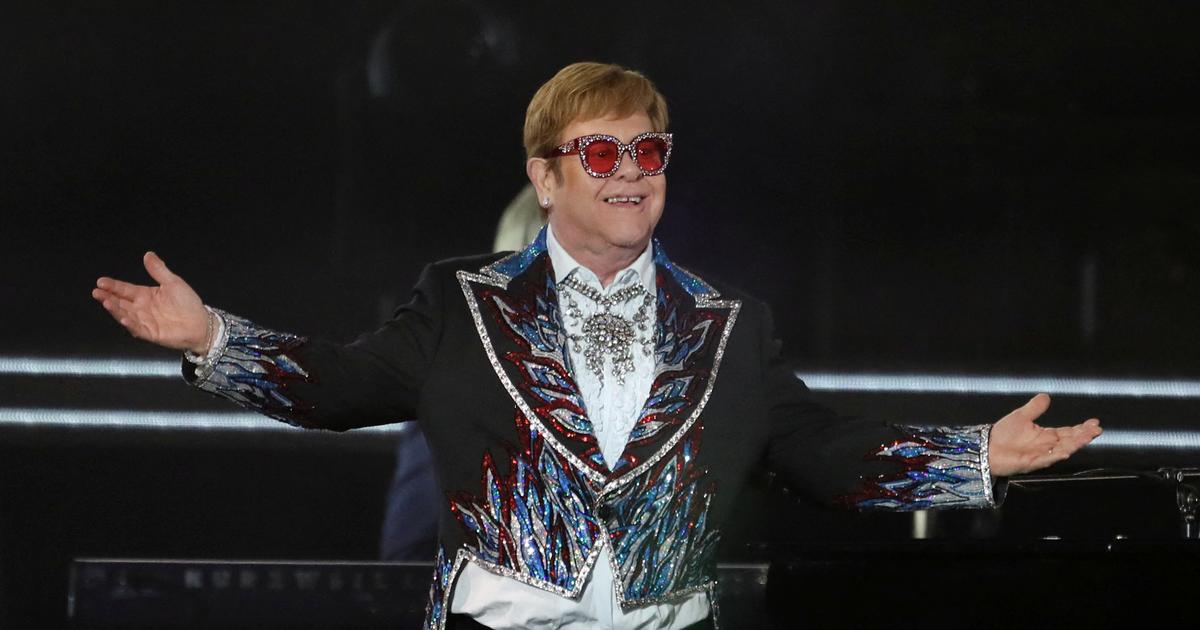 For his last show in North America, where his career really took off, the British singer revisited his classics in front of 55,000 spectators.
In a sequined bathrobe, he wrapped up the North American leg of his farewell tour on Sunday with a flamboyant concert in Los Angeles, the city that helped launch his global career half a century ago.
On the stage of Dodger Stadium, the baseball stadium that hosted two of his most famous shows in 1975, Sir Elton John gave a concert at a party "very special, very moving"broadcast live on Disney+. "As you know, I am stopping touring and this will be my last concert in America and Canada"he said before bringing on stage his husband David Furnish and their two sons, with whom he plans to spend more time.
The British megastar, 75, has a long-standing love affair with Los Angeles. His fledgling career, as shown in the 2019 biopic Rocketmanhad received a huge boost in the United States when he performed at the Troubadour, West Hollywood nightclub, in 1970.
"You know what? I became famous first in Americalaunched Elton John on Sunday. You bought the singles and the albums, the 8 tracks, the cassettes, the CDs. And more importantly you bought the tickets for the shows".
Beaded Cap
During the first half of the 1970s, Elton John multiplied successful titles, from Your Song at Tiny Dancer, and honed in on his extravagant stage persona. That era culminated on two memorable nights in 1975 at Dodger Stadium when he performed in front of a packed stadium in a custom-tailored, sequin-embellished baseball team jersey.
In a nod to the past, Elton John returned to the stage for the encores on Sunday wearing a bathrobe with the Dodgers logo and a baseball cap with pearls. "Be nice to each other, okay? And farewell!"he launched before intoning his famous Goodbye Yellow Brick Road.
The concert revisited his career, with titles ranging from crocodile rock at Candle In The Wind greeted by the cheers of 55,000 fans who sang them in chorus. Inspired by the singer, many of them wore boas, sunglasses and – of course – lots of sequins. Some held up signs to let him know they had attended dozens, if not hundreds, of his concerts."It makes me so happy that you wore the most fantastic costumes and have been to so many shows"said Elton John.
Disney+ recently started broadcasting live events and is making a documentary on Elton John which will conclude with his ongoing 'Farewell Yellow Brick Road' tour. Sixty other dates are still planned in Australia and New Zealand as well as in Europe for this tour which is already proving, with more than 660 million dollars (639 million euros), the third in terms of receipts ever carried out according to Billboard.
It started in 2018 but then had to be postponed several times due to the coronavirus pandemic and a hip operation the musician underwent in the fall of 2021. Elton John did not rule out other concerts solo at the end of his tour scheduled for 2023.
He was joined on Sunday during his concert by his compatriots Dua Lipafor their recent duet cold heartthen Kiki Dee for their classic Don't Go Breaking My Heart (1976). Elton John also brought on stage the American singer Brandi Carlile, as well as her lifelong lyricist Bernie Taupin. "It's a very special evening for me, a very moving evening", launched Elton John. Before concluding : "The trip was long."