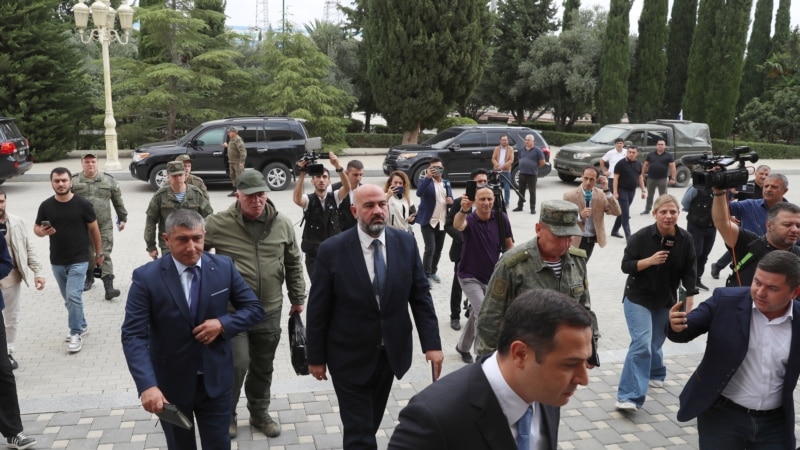 A delegation of Nagorno-Karabakh Armenians arrived in the Azerbaijani town of Yevlakh to participate in negotiations with representatives of the Azerbaijani authorities. According to the Azerbaijani Trend agency, the Armenian delegation is accompanied by the Russian military.
It was previously reported that the meeting will discuss "issues raised by the Azerbaijani side" about the reintegration of the Armenian community of Karabakh, as well as issues of ensuring the livelihood of the population of Nagorno-Karabakh within the framework of the Constitution of Azerbaijan.
Baku expects the authorities to transfer the entire territory of the former Nagorno-Karabakh Autonomous Region, which has not obeyed the authorities of Azerbaijan since the end of the 1980s, to the control of the authorities. President Ilham Aliyev said that the country has restored its sovereignty as a result of the military operation in Karabakh.
The negotiations were announced yesterday after the representatives of the self-proclaimed Nagorno-Karabakh declared a ceasefire, the terms of which actually mean the capitulation of the republic and involve the dissolution of the military and the transfer of heavy equipment to the Azerbaijani authorities.
As RBC reports, representatives of Azerbaijan handed over to the authorities of Nagorno-Karabakh a named list of people who should be handed over to Baku before opening a humanitarian corridor to Armenia. Among them are the former leaders of the unrecognized republic, as well as state and military figures. This information was not officially confirmed.
Protests continue in Armenia against the government's decision not to resist the Azerbaijani army in the unrecognized republic. From the early 1990s until 2018, when Nikol Pashinyan came to power as a result of m protests, the country's top leaders were mostly natives of Karabakh or veterans of the war there.
The territory of Nagorno-Karabakh is considered part of Azerbaijan under international law. The population of the region is mainly made up of ethnic Armenians. Representatives of the Armenian community proclaimed an independent republic, which was not recognized by any country, including Armenia. The parties to the conflict accused each other of ethnic cleansing.