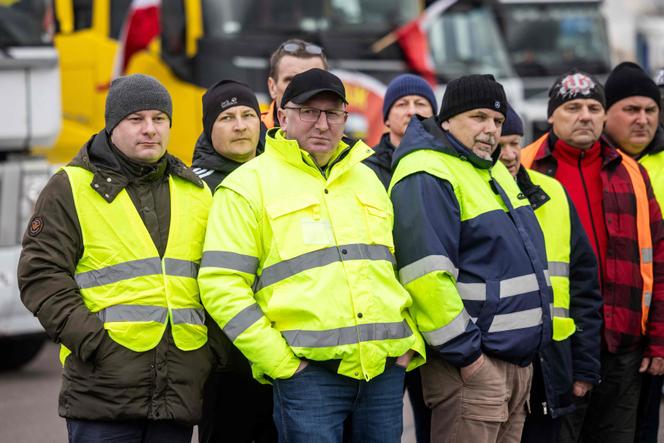 "Polish farmers are afraid of cheap Ukrainian wheat, we are afraid of Ukrainian transporters. We are overwhelmed by their trucks. » These are the words that summed up the state of mind of the country's transporters, Jacek Sokol, owner of a transport company, and one of the leaders of the protesters on the Ukrainian border, in front of the media Polish. Since Monday, November 6, several organizations in this sector have been blocking the Dorohusk, Hrebenne and Korczowa crossing points, in southeastern Poland. Almost all road traffic is paralyzed there. One truck per hour is allowed to p, with the exception of humanitarian convoys and aid to the Ukrainian army. The action could last several weeks.
The protesters, who blame the fall in their income on the liberalization of border transport rules for Ukraine by the European Union (EU) since the invasion began in February 2022, are demanding the reinstatement of regulations in force before the outbreak of war. Ukrainian trucks could then only enter Poland with a special permit. "Some solutions are introduced without consulting us. We are faced with a fait accompli and we no longer find ourselves there," says Jacek Sokol.
Polish transporters also denounce the lack of control over Ukrainian trucks which – in theory – do not have authorization to transport goods between EU countries. "In practice, most trucks arrive empty, pick up loads in Poland and take them throughout Europe. They're just taking our jobs." explains Bartosz Jasinski, owner of a transport company. According to industry organizations, this year almost 900,000 Ukrainian trucks entered Poland, compared to 180,000 per year before the war.
Solution in Brussels rather than Warsaw
Finally, the carriers, believing themselves to be discriminated against, are demanding control of the Ukrainian electronic queuing system for heavy goods vehicles at the border. Polish drivers going to Ukraine are forced to wait up to two weeks empty before returning to Poland. For Warsaw, which has the largest heavy goods vehicle fleet in the EU, accounting for almost 25% of trucks in circulation, the issue is critical. In 2022, the road and logistics sector would be worth 375 billion zlotys (84 billion euros), or 7% of the country's gross domestic product and 6.5% of jobs.
You have 50% of this article left to read. The rest is reserved for subscribers.