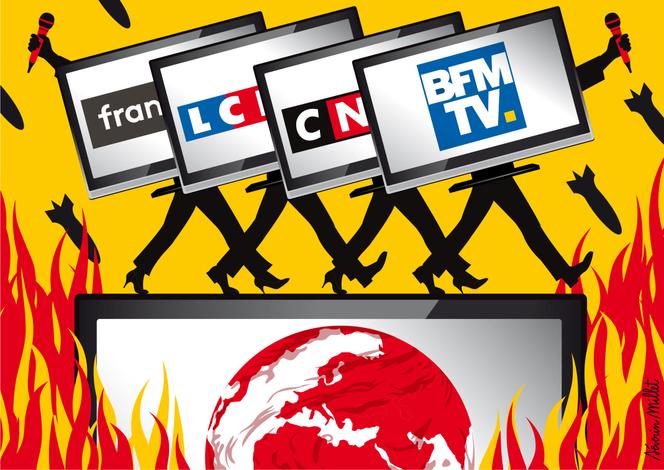 Wherever it comes from, the news is bad, but the news channels are not about to complain about it. While BFM-TV is preparing to release a new platform all in giant screens and LCI boasts of inaugurating a new formula for its morning show, they are making their comeback full of hope: in June, the market share of BFM -TV (3.4%), CNews (2.4%, a record), LCI (2.4%, another record) and Franceinfo (0.8%) combined reached the historic figure of 9%, a proportion unprecedented.
The television set may lose its luster in the living rooms, but the power of attraction of the news channels continues to act. Even 25-49 year olds are increasingly fond of it, constituting 16% of their audience. And "I think we can still improve"ures Marc-Olivier Fogiel, the general manager of BFM-TV.
"Structurally, details the leader, people are consuming less linear television and more on demand. But they end up in front of the television for the live events of sport and news. » And, as social networks shower viewers with tweets and posts all day long, they increasingly rely on news channels to respond to their " need an editorial, certified reference", he says.
First to be installed on free DTT, in 2005, BFM-TV is the most watched "every year, every month, every week", recalled, Thursday, August 31, Hervé Beroud, Deputy CEO of Altice Media, on the occasion of the presentation of the back-to-school programs of BFM-TV, BFM Business, RMC, etc. – even if, at 3.1%, the channel lost 0.2 point of market share over the season compared to the previous one, marked by the presidential election.
Logic of differentiation
The news being the same for all, "it's the packaging" in which it is presented which allows everyone to find their way, explains Marc Boni, lecturer at the Aix-Marseille school of journalism, author, with Alexandre Joux, of a Introduction to media economics (Armand Colin, 2014). "In this standardized market, each one develops a particular tail, a niche in which it will be unique"he explains.
Second on the podium (2.2% over 2022-2023), CNews saw its audience take off when it turned into a predominantly reactionary opinion channel, after its takeover by Vivendi in 2016. For LCI , the revelation came in 2022. With the outbreak of war in Ukraine, the TF1 group's channel saw its number of followers grow, to the point of recording, last season, the "strongest growth in audience share" of all the news channels (2%, + 0.6 point), underlined Fabien Namias, its general manager, and Thierry Thuillier, the director of information for the TF1 group, Wednesday August 30. " Either we respond to information anxiety by stoking fears, or we get people out of some kind of fog they're in, choosing to enlighten them", explains Mr. Namias, proudly claiming to have chosen the second option.
You have 47.1% of this article left to read. The following is for subscribers only.