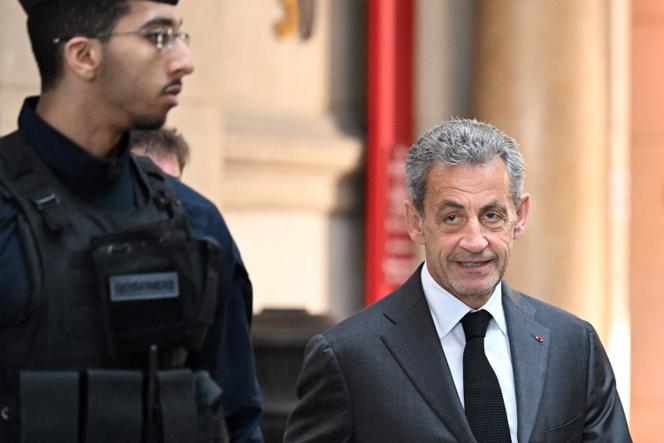 Nicolas Sarkozy is once again convicted in the Bismuth case. The judges of the Paris Court of Appeal confirmed, on Wednesday May 17 in the morning, the first instance decision in this case of corruption and influence peddling, by being more severe than the prosecution which had only required reprieve. The magistrates sentence the former head of state to three years in prison, including one year, and a three-year ban on civil rights, for having, with the help of his lawyer Me Thierry Herzog – sentenced to a three-year ban on practicing – tied a "corruption pact" with Gilbert Azibert, a magistrate of the Court of Cation, in order to obtain information on the decisions concerning Mr. Sarkozy. MM. Herzog and Azibert are sentenced to the same sentence. The former President of the Republic, the first in history to be sentenced to a firm sentence, has announced his intention to appeal to the Supreme Court.
The Bismuth case is a meta-case, a consequence of other notorious legal cases facing Nicolas Sarkozy and Thierry Herzog. The Woerth-Bettencourt affair first, in which the billionaire Liliane Bettencourt had been suspected of having given money to political figures, including Nicolas Sarkozy, and benefited in exchange from the leniency of the Ministry of Finance, then headed by Eric Woerth, before the justice put an end to the prosecution. The case of suspected Libyan financing of the 2007 presidential campaign then, for which the National Financial Prosecutor's Office (PNF) requested, Thursday, May 11, a trial against Mr. Sarkozy.
In January 2014, the former Head of State and his adviser had sought to obtain information on these two legal proceedings and in particular on a decision of the Court of Cation, which was to rule on the communication of the presidential agendas of Nicolas Sarkozy to the investigating magistrates in charge of the Bettencourt case.
A simple "push"
For this, the two men had contacted a magistrate in post at the Court of Cation, Gilbert Azibert. Against the promise of an intervention by Mr. Sarkozy in order to obtain a position for him within the Court of Revision of the Principality of Monaco, he had undertaken to obtain internal information on the debates within the chamber of the Court of Cation regarding the agendas.
In order to communicate easily, Mr. Sarkozy and his "friend of thirty years"Thierry Herzog, who knew they were tapped on their official telephones, used another line, opened by Me Herzog under a false name, that of Paul Bismuth, a former clmate of the lawyer. But the two men do not know that the judges investigating the Libyan case have also tapped the so-called "Bismuth" line, and discovered their maneuvers to obtain information through Mr. Azibert. A "corruption pact"will estimate the prosecution, where Nicolas Sarkozy will evoke in his defense a simple "boost"as he gave " all his life ".
You have 24.69% of this article left to read. The following is for subscribers only.