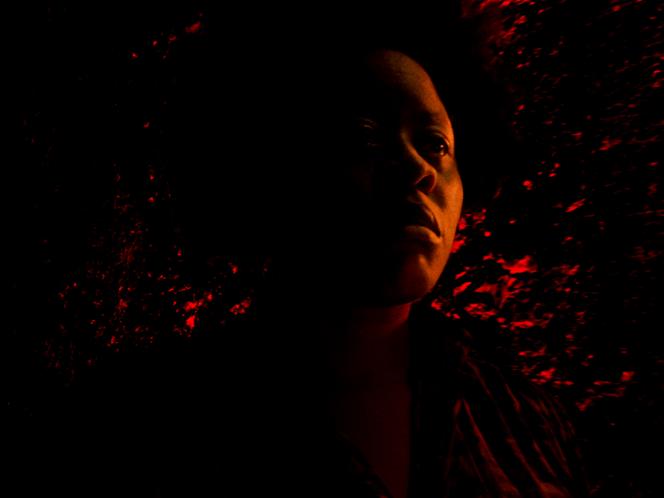 Even for a 9-minute film, moviegoers came to discover Pedro Costa's latest creation, As filhas do Fogo ("the daughters of Fogo", fogo both "fire" and the name of a volcano), presented at Cannes in a special screening, out of competition. This short film had its world premiere at the same time as the last film directed by Jean-Luc Godard, Film announcement of the film that will never exist: "Phoney wars". It was also programmed with the documentary of Wang Bing, Man in Black.
After the Golden Leopard received in Locarno, in 2019For Vitalina Varela, the Portuguese filmmaker, 64, signs a musical work, mixing baroque music (Biagio Marini) with a Ukrainian lullaby. Three singers from Cape Verde appear in a screen divided into three: the performers, Elizabeth Pinard, Alice Costa, Karyna Gomes, embody three young sisters separated following the eruption of Fogo, in Cape Verde. They sing : "One day we will know why we live and why we suffer. » The film ends with images captured by the Portuguese geographer Orlando Ribeiro (1911-1997), the day after the eruption of the volcano in 1951, blue sky standing out against a dark earth.
"Songs captured live"
As filhas do Fogo East, in a way, the prelude to an upcoming feature film, explains Pedro Costa in a café, a stone's throw from the Croisette. "I want to experiment with a musical film, not in playback, but with songs recorded live. It will not be a Jacques Demy musical. This type of experiment has been tried very little in the history of cinema, but we can cite, among others, the film by Straub and Huillet, Moses and Aaron [sorti en 1975] »a sort of film-opera shot in the open air.
"If singing interests me, it is because there is this courage of the performers, who take the risk of exposing themselves. There is also this fragility of live recording. You have to be at the height of the singers", underlines the filmmaker. He adds : "The three main characters will be migrant women dispersing, each in a different country, connected to the Cape Verdean diaspora. They work in the factory, as housekeepers… At night, they talk to each other. It will be a nocturnal film, I am not going to blackmail workers at work…" On the budget side, it will be as usual, "a Portuguese film, with a small film crew".