no Haaland, no problem in Dortmund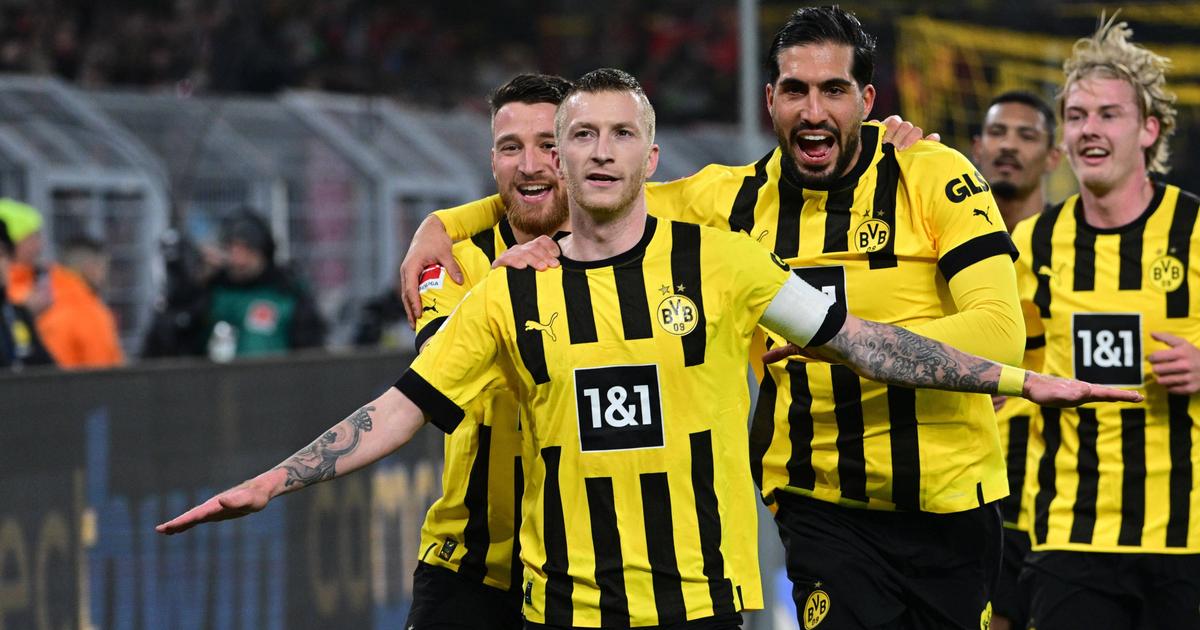 Dortmund, who remain on 10 consecutive victories, completely forgot Erling Haaland when it came time to move to Chelsea this Tuesday (9 p.m.), in 8e Champions League final second leg.
In Ligue 1, there are Reims and their 18 consecutive matches without defeat. Some 450 kilometers to the northeast, beyond Belgium, there is Borussia Dortmund. The German club has had a perfect record since the end of the winter break: 10 matches, 10 wins. On his way, he crunched Leverkusen (0-2), Freiburg (5-1) and Leipzig (2-1) in the league, Bochum (1-2) in 8e of the German Cup final, and above all Dortmund-Chelsea: the fantastic ride of Adeyemi, the offensive apathy of the Blueson February 15 (1-0).
After 23 Bundesliga days, Dortmund,co-leader on equal points with Bayern Munich, has exactly the same record as a year ago: 16 wins, 1 draw and 6 defeats. Who would have bet on it last summer, when its star striker Erling Haaland, promised to apply for the Ballon d'Or, packed up?
"Although we always liked Erling and he was successful with us, the question (of his transfer) had become a real burden in the dressing room, in the club and in his environment.", confided the sporting director of Dortmund, Sebastian Kehl, in the columns of Picture last September.
Edin Terzic, Dortmund's new guru
Haaland having a blast at Manchester City this season (33 goals in 34 matches). And Dortmund, where he scored 86 times in 89 matches (2020-2022), quickly moved on. However, the club did not replace him as they had hoped. Bought for more than €30m from Ajax Amsterdam, Sébastien Haller had to wait until 2023 to wear the yellow and black jersey, Blame it on a testicular tumor.
If Dortmund have a record identical to that of last year, having won all their matches in 2023, it is because there were a lot of hitches at the start of the season. Time for his coach, Edin Terzic, to accept that pressing could not be the key to his team's game, which was too athletically limited.
Dortmund less prolific and more solid
Beyond the tactical aspect, Terzic, 40, quickly showed himself like a fish in water in Dortmund. He arrived there as assistant to Lucien Favre in 2018. He succeeded him as head coach between December 2020 and May 2021, before switching to the role of technical director of Dortmund… then to sit down on the bench instead of Marco Rose. Charismatic, appreciated by the players, Terzic put the BVB back on the right track. Even if it means scoring less than during the Haaland era.
Dortmund are scoring 2.09 goals/game this season, compared to 2.27 goals in 2020-21 and 2.30 goals in 2021-22. Haller and his gang learn to suffer, to hold on, and always manage to get by, as in a narrow victory against Leipzig last Friday (2-1). "Luck is currently on the side of the Yellow and Black", noted our colleagues from Picture. Against Chelsea, Dortmund suffered 21 shots, their highest tally in a Champions League win since 2003."There were good things and the most important thing is to have won"Cynically summed up Terzic.
Bellingham aiming for Bundesliga title
Dortmund is not orphan of Haaland because his collective is consistent, and because he has other individual arrows to his bow. Goalkeeper Gregor Kobel pulls out all the stops in hot moments. Captain Marco Reus reassures and unblocks situations. And there is this other prodigy, Jude Bellingham, who could, like Haaland, leave the eternal springboard that BVB represents. "He is the oldest soccer player in the world at 19.", marveled Terzic, amazed by the maturity of the English environment.
SEE ALSO – The best of Jude Bellingham with Borussia Dortmund