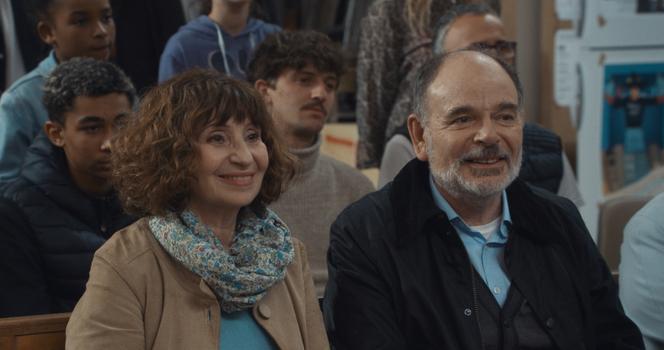 THE "WORLD'S" OPINION – MUST SEE
Robert Guédiguian, 69, remains indelibly linked to the city of Marseille, to his troop of actors who are aging in front of his camera, as well as to the destinies of the "people of the left" in the political winter which followed the effervescence of the years 1970 (his entry into cinema was with Last summer, in 1981). And it is this unalterable sense of loyalty that makes him endearing until his last and 23e feature film, despite clear signs of running out of steam.
And the party continues! takes hold in recent news, in reaction to the collapse, on November 5, 2018, of two dilapidated buildings on rue d'Aubagne, in the old center of Marseille, which led to the death of eight people and the humanitarian distress of around a hundred evacuated survivors. The film opens with images of the disaster, and the void left in the buildings like a wound, a symptom of the brutal negligence of urban policies, under the helpless gaze of the bust of Homer adorning the place.
The story revolves around this gaping hole left in the neighborhood, but also around Rosa (Ariane Ascaride), a caregiver just a stone's throw from retirement, a widow and affectionate grandmother, as well as an everyday activist. Around her gravitate her two big boys, Sarkis and Minas (Robinson Stévenin and Grégoire Leprince-Ringuet), who maintain their Armenian heritage, but also Tonio (Gérard Meylan), a communist brother and taxi driver, among a whole small galaxy loved ones – spouses, grandchildren, colleagues and friends.
Beautiful moments of grace
In the political avenue opened to the left in the municipal elections, Rosa is expected to run as head of the list, but suffers the full brunt of the division in her own camp. At the same time, she falls in love late in life with Henri (Jean-Pierre Darroussin), a former scholarly bookseller, and incidentally the father of her daughter-in-law, Alice (Lola Naymark). For Rosa, a major question then arises: to persevere in civic engagement or to begin the process of disengagement, for the benefit of something else? Through this character, we may recognize the model of Michèle Rubirola, elected mayor (Europe Ecologie-Les Verts) of Marseille in 2020, only to resign five months later.
Since its beginnings, Guédiguian's cinema has been based on two opposing impulses, one political, the other lyrical, which it is not often easy to reconcile, hence the melancholy which is consubstantial with it. Lately, this melancholy had taken a tragic turn, through melodramas with no escape, of profound darkness, like The villa (2017) Or Gloria Mundi (2019)haunted by death, failure and a sense of social disaster.
You have 45% of this article left to read. The rest is reserved for subscribers.