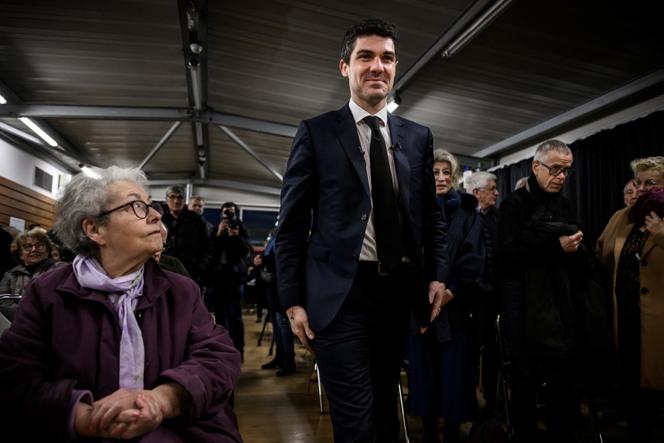 "In two months, I took five years. » Aurélien Pradié readily admits it: being the troublemaker of the right during the pension reform tires you out his man. At 37, the deputy Les Républicains (LR) of the Lot has gained notoriety with his highly publicized opposition to the text, but he has lost in quality of sleep; and especially his position as vice-president of the party for insubordination. In early May, he rested his body and mind facing the Atlantic at the sports rehabilitation center in Capbreton (Landes).
As a perfect surfing enthusiast, the 30-something knows when to recognize a good wave and take it as long as possible. "What happened on the pensions was not just an agitation, it was the basis for a real reconstruction of a popular right"he wants to believe.
Within the party, some take as agitation its convention to "rethink work", organized Monday, May 15, at the National embly. The boss of LR deputies, Olivier Marleix, has little taste for initiative. Other deputies believe that the Lotois "keep playing personal". "I was given my freedom back. It didn't have to be done, he replies. I'm not just going to have the inconvenience of a newfound freedom. »
For one afternoon, Mr. Pradié intends to create a dialogue "different people to get out of the same right-wing tunes" and cites as guests the former general secretary of Force Ouvrière, Jean-Claude Mailly, the philosopher Julia de Funès or the ex-president of Medef, Pierre Gattaz. But behind the space for reflection, there is also the desire to continue to mark its difference. The one between his popular right and another qualified as "painful" and embodied in his eyes by the leader of the LR senators, the ex-filloniste Bruno Retailleau, supporter of radical measures to reduce the debt or even in favor of postponing the retirement age to 65 years. "I do not believe in this right which measures its political courage by the pain inflicted on the French and which considers that they are profiteers"slice Aurélien Pradié.
The defender of "long careers" during the pension reform is convinced of this, "work is the subject that crosses the country the most, well beyond the right". He has the intuition that the major reform needed in the country lies in the organization of working time. He seeks to infuse his "work more and work better". The formula sounds like " Work more to earn more " of the candidate Nicolas Sarkozy in 2007, but brought up to date in 2023 in a post-Covid-19 France marked by the development of telework. He suggests that the four-day week (worked 38 hours or 39 hours) replace tax-exempt overtime as a flagship measure.
You have 54.47% of this article left to read. The following is for subscribers only.