OnlyFans, Mym… These platforms where young people trade in their sex life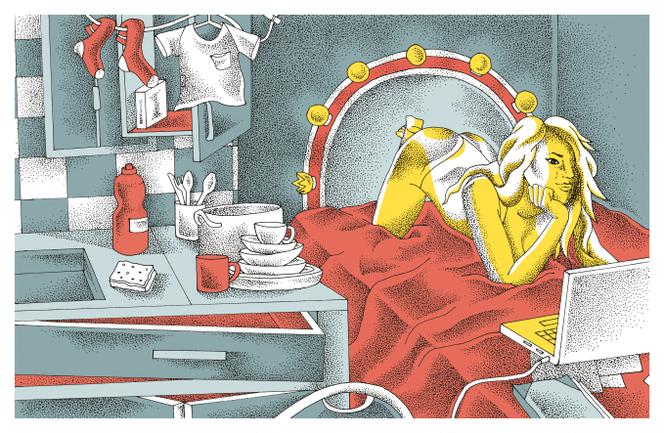 Bonnie is her nickname. She's 19, two lives, and two phone numbers. The first is communicated to her family or to her comrades, enrolled like her in a double degree in literature and computer science, in Paris. The second is reserved for her clients, whom she meets on the Mym social network, where she introduces herself as "sexy little student". "I like to be pampered. Sell ​​nudes, vocals, videos, sexting…", she says in her "bio".
Created in 2019 in Lyon, Mym, a social network acronym of "Me. You." More », lists 9 million users and drains a sulphurous reputation, like its British equivalent, OnlyFans, also present in France. Launched in 2016, the latter claims more than 200 million users. These platforms, whose number of users continues to grow, allow content creators (images, videos, etc.) to generate direct income through their subscribers, who pay to access their account. Account subscription is charged between 5 and 50 euros per month on OnlyFans, which takes 20% commission on all transactions. While they are not only devoted to sex, OnlyFans or Mym are full of paid erotic and pornographic content.
"I don't report to anyone"
Bonnie started selling erotic photos on Mym in January 2021. " We were confined, I couldn't find a student job, my parents just help me with my rent, I had to manage for the rest… " The Parisian student had discovered the existence of this site by chance from a conversation on Instagram. "I got hooked right away. What I like is that I am my own boss, I do not report to anyone ", unfolds the young woman. Bonnie sells each video between 60 and 75 euros, and her photos between 5 and 10 euros. On Mym, she earns between 70 and 200 euros per month. "These platforms are often criticized for trivializing the use of sex work. For me, their popularity is due to the rising cost of living, especially for students. Unlike traditional jobs, these social networks offer great flexibility in terms of schedules. And in terms of the arduousness of the work, I find that it is less difficult than the catering trades", assumes Bonnie.
Once subscribed to an account, users ("fans") can engage in conversations and make personalized content requests to creators, who can accept by offering a price. "What makes creators money is not subscriptions, but custom requests", says Claire Ferrero, sexuality consultant, who runs her sex education channel on Twitch. She says that originally, OnlyFans was invested by actors in the porn industry, who saw it as a way to earn money in parallel with filming: "The performers were able to dictate their own working conditions and have more financial autonomy. Since 2020, the community has evolved. OnlyFans was quoted in a Beyoncé song, and the platform has grown its audience, especially during lockdowns. »
You have 70.12% of this article left to read. The following is for subscribers only.