Orlando ends Celtics nine-game winning streak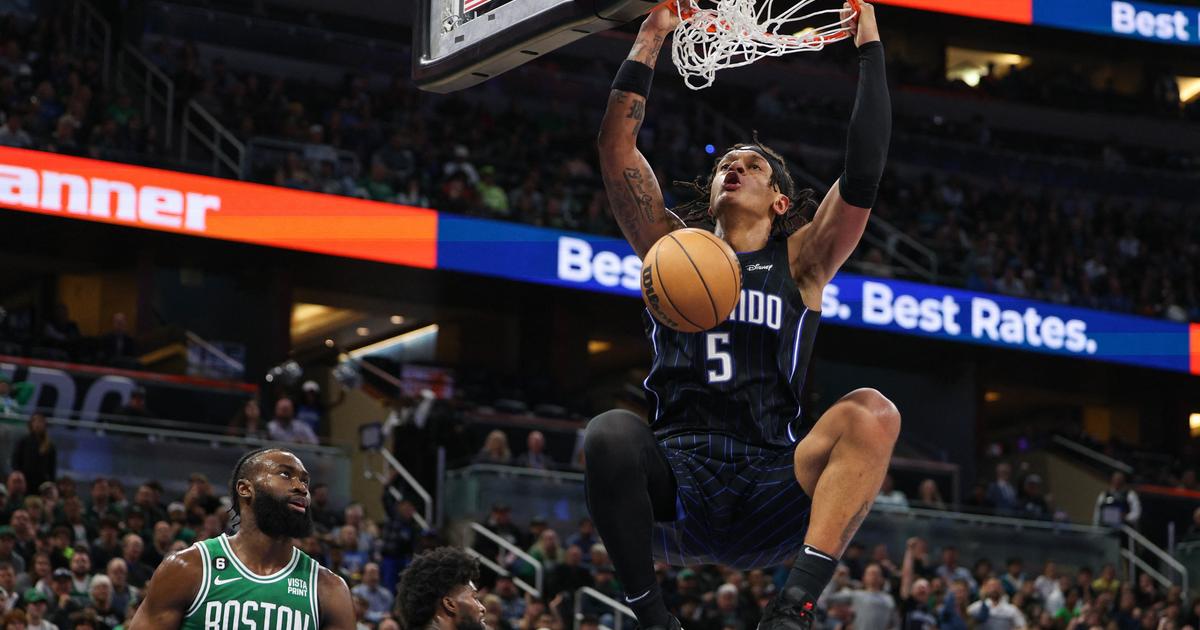 The Orlando Magic, Boston's pet peeve, won 113-98.
The Orlando Magic, the Celtics' pet peeve, ended a nine-game winning streak for a Boston Celtics weakened by absences, winning 113-98 on his floor on Monday.
Yet poorly ranked in the East, Orlando, with a starving record of 17 wins for 29 defeats before its meeting against the league leader, took full advantage of injury absences from Marcus Smart and Robert Williamstwo key players in the defensive system of the Celtics to claim their third victory over Boston this season.
For this, the Magic relied on the N.1 of the last draft, Paolo Banchero, 20 years old and 23 points scored. Four other Magic players scored more than ten points, including Wendell Carter Jr. (21 points) and Germany's Franz Wagner (15 points).
"Every time you play against a former champion, a team that has already been in the final, that has been where you want to be, you give the best of yourself to winsaid Banchero. "That's my mentality, and that's our team's mentality, and we were able to do that.
In addition to his young Italian-American strong winger, Orlando also recorded the return to competition of another strong winger, Jonathan Isaac, whose career has been plagued by injuries for two years and who had not stepped on an NBA floor since August. 2020. In ten minutes of play, Isaac scored 10 points, grabbed three rebounds and made two steals.
"It was fantastic, if only to walk the floor», moved Isaac after the meeting. "I feel good, I'm grateful to be with the Magic. And on top of getting a win, I couldn't be happier.»
Facing the Florida franchise, Massachusetts stars Jayson Tatum and Jaylen Brown scored 26 points each, Derrick White added 11 and Sam Hauser 13 off the bench. Insufficient in the face of the ardor of Magic.
Return of the 'Greek Freak'
In Monday's other games, Giannis Antetokounmpo and Khris Middleton returned from injuries and the Milwaukee Bucks perked up by beating the Detroit Pistons 150-130.
Antetokounmpo had missed the Bucks' last five games with a lingering knee injury, and Milwaukee without their 'Greek Freak' lost three games. Middleton, meanwhile, had not played since mid-December.
But the two-time MVP did not lack rhythm, achieving a full game with 29 points, 12 rebounds and four assists. Middleton added eight points for his comeback.
"It feels good to be on the pitch again with the team, to play, to go up in attack and come back down to defend.said Antetokounmpo. It should never be taken for granted. Of course I missed it, I missed being with my teammates, I missed playing basketball. I just missed being on the pitch and playing.»
During the first quarter, Milwaukee folded the game by scoring 49 points, and took a 25-point lead at the start of the second. With now 30 wins for 17 losses, the Milwaukee Bucks climb to 3rd place in the Eastern Conference behind Boston and Philadelphia. Detroit remains dead last with 12 wins and 37 losses.
In California, with Ja Morant absent, the Memphis Grizzlies suffered a third consecutive defeat, after those against the Lakers on Friday and Phoenix on Sunday, this time losing 133-100 to the Sacramento Kings. Six Kings players finished with more than ten points each, but Trey Lyles, with his 24 points, was particularly illustrated.
Finally, in Portland, Damian Lillard was unleashed with 37 points and 12 assists, well supported by Anfernee Simons (26 points) and Jusuf Nurkic (25), and the Trail Blazers defeated the San Antonio Spurs 147-127.