Osimhen has fun, Naples in demonstration at La Spezia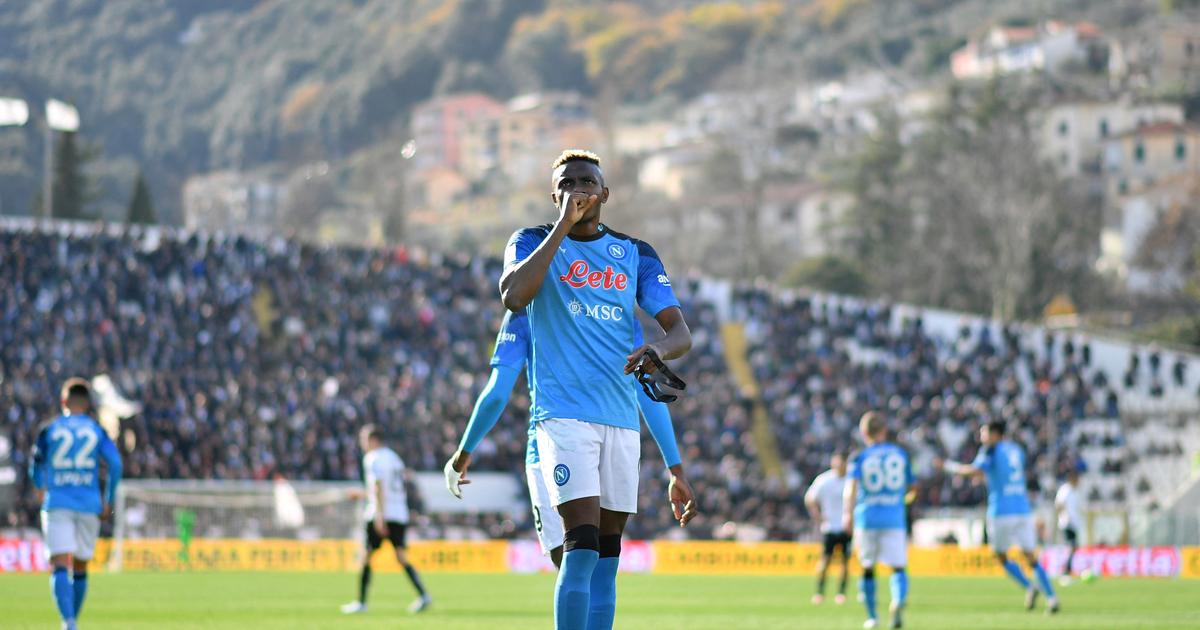 The leader of Serie A confirmed his current good form by going to win on the field of La Spezia (3-0).
Naples has increasingly established its supremacy in Serie A by signing a new offensive demonstration at La Spezia (3-0) thanks to a double from the untenable Victor Osimhen and a penalty from Khvicha Kvaratskhelia, Sunday during the 21st day.
Napoli have a provisional sixteen-point lead, a chasm, over Inter Milan (2nd) and AS Roma (3rd) before the evening derby at San Siro between the Nerazzurri and a struggling AC Milan (5th, 18 points from Napoli).
La Spezia, first non-relegation (17th), resisted a half-time to the Neapolitan tornado. But the Ligurian defender Arkadiusz Reca gave the leader a real gift with an involuntary hand in his area, trying to protect the ball, after only ten seconds of play on the restart. Kvaratskhelia was quick to convert the penalty (47th).
Osimhen, full of confidence, then went into action. The Nigerian was first denied a goal for holding an opponent (62nd) but caught up immediately with a double, the first by admiring his relaxation to take the ball over the Ligurian goalkeeper (68th) and the second in the empty goal a caviar from "Kvara" (73rd).
Osimhen increases his lead at the top of the scoring charts with sixteen goals, and especially fourteen in the last twelve matches after being disrupted by an injury at the start of the season.
In the wake of the Nigerian, the Neapolitan offensive machine continues to march on Serie A, enough to depress its rivals ever more for the scudetto and perhaps also worry Frankfurt, its next opponent in the knockout stages of the Champions League.
What to maintain, in any case, in good spirits the morale of the Neapolitan coach Luciano Spalletti, who did not give gifts to his former club, where "Lucio" evolved as a player in the 1980s (in the third division ). In the La Spezia jersey, Spalletti notably had the opportunity to come across Diego Maradona's Napoli in the Italian Cup in 1988 (Neapolitan qualification 3-1), a legendary team which he is in the process of joining in the history of Serie A.