Other People's Children, A Beautiful Race, NinjaBaby... Films to see or avoid this week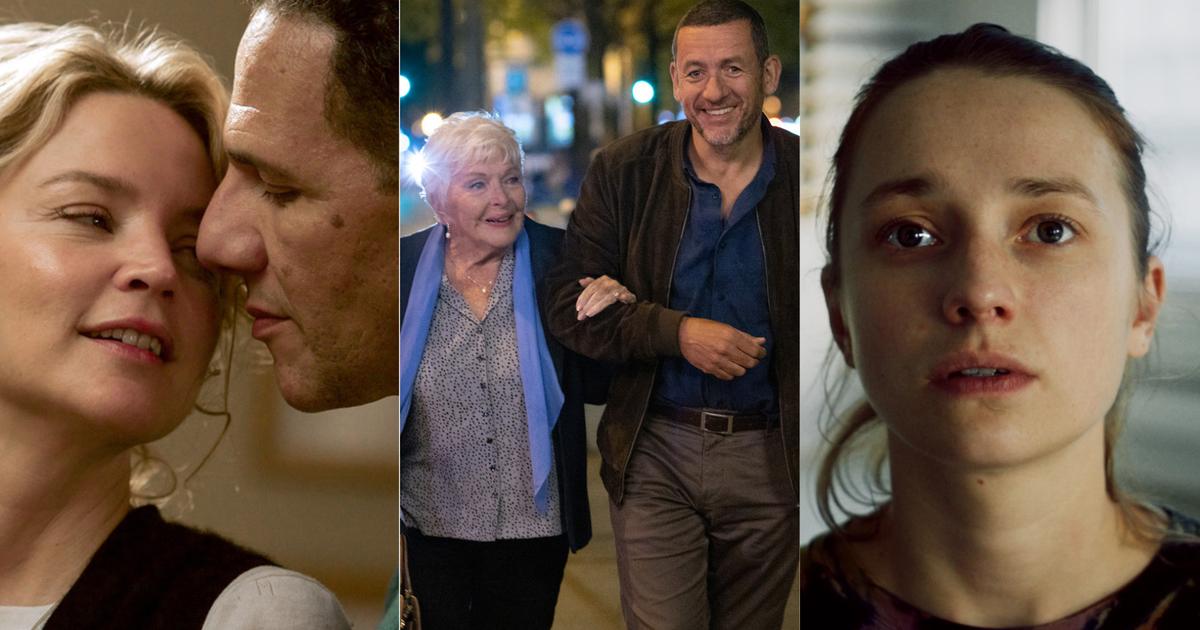 Virginie Efira as an overwhelmed mother-in-law, Line Renaud and Dany Boon embarked on a moving journey through time, a biting film about unwanted motherhood... What should we see this week?
Other people's children - Have
Drama by Rebecca Zlotowski, 1h43
Rachel is in her forties, falls in love with a separated father, Ali, solid, protective, endearing. We should not forget the delicious Leila, 4 years old, who is part of the lot. Eternal single, this literature teacher discovers the charm and the chores of a surrogate motherhood. She hasn't had any children and she's starting to ask herself questions. Her gynecologist wouldn't rush her, but the biological clock is ticking. So Virginie Efira gets lost in the arms of Roschdy Zem, who is an automotive designer. Man compartmentalizes his life. There's his ex Chiara Mastroianni, fragile as a sigh, who understands the situation half-heartedly. The newly elected takes care of the daily duties, picking up the girl from her judo class, preparing the snack. The desire to finally be pregnant torments her. Leila likes it. Rachel would rather she love him at all. Sometimes the little girl asks for her mother. Rachel is lost. Bonds are forged. They are likely to be short-lived. Ali looks torn. He walks quietly. Leila's birthday will be spent in the in-laws. Rachel is asked to stay on his side. She ticks a bit. Strange position than his. Mother without being 100%, always compared to the past, not having the codes, learning on the job. If you think it's easy. Virginie Efira renews with grace and depth the figure of the mother-in-law. With Other people's childrenRebecca Zlotowski signs her best film, saturated with freshness and intelligence. E. NOT.
Read alsoOur review of Goya's Shadow: the will of Jean-Claude Carrière
Goya's Shadow - Have
Documentary by José Luis Lopez-Linares, 1h30
In this sublime documentary about the Spanish painter, writer and screenwriter Jean-Claude Carriere went to Spain in his footsteps. It is therefore moving to see this storyteller, playwright, philosopher and screenwriter at the Prado, a few weeks before his death in February 2021, bid farewell to the two shifts by Goya. Admiration of a great "watcher" and a great "restorer" of history for another? Certainly. Because, before Goya, what other chronicler for this Spain falling endlessly from its world throne? Cervantes? Career spoke well of him too. But Goya had the preference. The painter and filmmaker Julian Schnabel and Charlotte Chastel-Rousseau, in charge of Hispanic painting at the Louvre, also intervene. All evoke a Goya made of energy as of delicacy, a colorist who blazes even in his black work, a man of the Enlightenment as of the anti-Enlightenment. Official canvases or private creations follow one another pell-mell, in no order other than that of favorites and intuitions. It gets messy at times, but Goya himself practiced the illuminating capriccio. E. B.-R.
Read alsoOur review of Goya's Shadow: the will of Jean-Claude Carrière
ninjababy - Have
Drama by Yngvild Sve Flikke, 1h43
She may be selfish, party girl, and damn immature for her 23 years, Rakel, the heroine of ninjababy turns out to be devilishly endearing. A fearless Norwegian comedy, presented by Yngvild Sve Flikke, this lively feature film features a young comic book artist who finds herself six months pregnant. Horror, misfortune, too late to be able to attempt an abortion! Rakel is in deep trouble. Especially since she absolutely does not want to become a mother at her age. Distant cousin of the American Juno (the lovely Jason Reitman film released in 2008), or even its Norwegian counterpart, Julie (in twelve chapters) revealed to the public by Joachim Trier last year, this Rakel does not lack bite. Led with a beating drum, the film treats happily (but without concession or sentimentality) of a theme which however does not lend itself to the joke, unwanted motherhood. OD
Read alsoOur review of ninjababy: the impossible Mr Baby
Don't Worry Darling - You can see
Thriller by Olivia Wilde, 2h03
Revealed by the series Dr House and Vinyl, comedian Olivia Wilde surprised Hollywood in 2019 by stepping behind the camera with Booksmart, schoolgirl schoolgirl comedy about two first of the class yielding to the sirens of drunken evenings. With Don't Worry Darling, retro dystopia with a budget of 35 million dollars, the 38-year-old American changes scale and atmosphere. Pushing the doors of the Victory community is to discover an oasis of palm trees and still azure skies frozen in the comfort of the 1950s. and unlimited cocktails. Gentlemen leave every morning in a convertible to work in the desert at the company's HQ. Alice (Florence Pugh) is satisfied with this routine that she forgets in the arms of her husband Jack (the singer and idol of young Harry Styles). Led by Victory founder and quasi-guru Frank (Chris Pine), every promotion and advancement is cause for decadent parties. This existence is so perfect that it is suspect. The cracks are not long in appearing: a neighbor tries to commit suicide, a plane crashes. Don't Worry Darling dazzles with its sumptuous aesthetic madmen. Alas, this audacity and visual mastery fail to find support in a scenario that is far too transparent. Like a soufflé, the thriller falls suddenly. CJ
Read alsoOur review of Don't Worry Darling: a lot of waiting for nothing
A great race - You can see
Dramatic comedy by Christian Caron, 1h41
Christian Carion's new film features a nonagenarian who leaves her home to enter a retirement home. It all starts with an exasperated Parisian driver (Dany Boon) who honks furiously outside the suburban home of an old lady who called him for "a nice run", as it is called in the jargon of the profession. Line Renaud enters the stage as in the theater. Imperial and mischievous, this sparkling-eyed nonagenarian must leave her home to go to a retirement home. The taxi serves as a funny place for a meeting.
Stuck in his money and job problems, Charles intends to provide the minimum chat service to this grandmother lost in her memories. Over the course of the forced discussion, the characters become tamed. The beautiful race offers Line Renaud and Dany Boon a beautiful cinema duo, accomplice and moving. OD
Read alsoOur review ofA great race: help taxi!
Lise Broholm's Last Night - You can see
Drama by Tea Lindeburg, 1:26
Lise is 14 years old, at the end of the 19th century. On the Danish farm where she grew up, the mother is about to give birth. Screams of pain come from the bedroom. The teenager observes the ballet of the maids, the comings and goings of the doctors, with a mute amazement. This burning and inspired first film cannot fail to evoke Bergman, with his young actress set on fire from within. E. NOT.
Free Garance! - You can see
Drama by Lisa Diaz, 1h36
Summer 1982, eleven-year-old Garance lives in an isolated hamlet in the Cévennes with her sister and leftist parents (Lolita Chammah and Gregory Montel). When a member of the Red Brigades hides nearby after a bank robbery and his mother leaves home, Garance sees the adult world differently. For her first feature film, Lisa Diaz deals with an original subject from a child's perspective. At the risk of watering it down. E. S.
My Father's Secrets - You can see
Animation by Véra Belmont, 1h14
Adapted from the autobiographical comic strip by Michel Kichka, My Father's Secrets tells how two brothers have a difficult time dealing with their mute father, a survivor of Auschwitz in Belgium in the 1960s. The film focuses above all on painful transmission. On one side, a father who encourages his son's gift for drawing. On the other, the reproduction of a trauma, that of the Shoah. This pretty educational and endearing film was designed to touch children, even if its very classic 2D animation is nothing short of stunning. OD
Moonage Daydream - To avoid
Documentary by Brett Morgen, 2:20
Golden subject, archives that we imagine to be astoundingly rich, dream soundtrack: Moonage Daydream is the proof that the ingredients are not enough to make a good film. The American Brett Morgen, to whom the heirs of the rock star who disappeared in 2016 entrusted the reins of this project, made the bitter experience of it. His documentary is a complete shipwreck, as prodigiously failed as Bowie was brilliant. We emerge washed out of this pensum with great intellectual pretensions, which tries to make Bowie, a very intelligent and cultivated man, what he was not: a philosopher. The opening of the film and its gloubi boulga of pseudo-cosmic thoughts is particularly heavy. Bowie didn't need this pompous treatment to be a compelling case study. WE
Read alsoOur review of Moonage Daydream: Bowie lost in the cosmos