Our review of the documentary It starts like this by Clara Luciani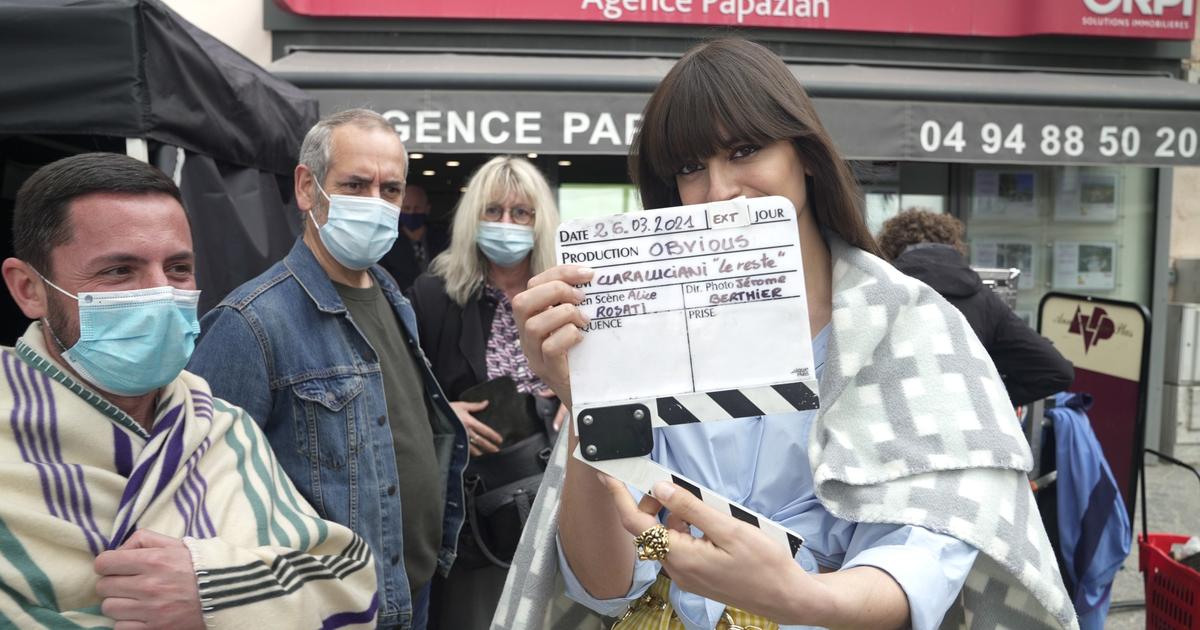 The unique documentary It starts like this follows Clara Luciani behind the scenes of the development of her second album, in the midst of the Covid-19 period. To watch this Wednesday, February 8 on the Amazon Prime Video platform.
"We are shooting a documentary about my apple. » It's the first thing that Clara Luciani throws at the camera. She herself does not seem particularly comfortable with the idea of ​​being the subject of this film proposed and produced by Winter Productions (Régis Lamanna-Rodat and Hugo Clement), in association with Prime Video and Universal Music France. The singer recognizes it, she did not imagine that the underside of her career, the secrets of her success could be of interest.
Read also"I don't wish my adolescence on anyone": Clara Luciani in tears alongside Frédéric Lopez
The objective of the singer is therefore not only to tell the story in pictures. But to convey a message of hope. To show that one can lack self-confidence, be shy, too often overwhelmed by one's emotions and find, in art, whatever it is, the ideal way to metabolize these apparent deficiencies into major strengths. It's also a way to prove that you can believe in your dreams. Clara's is written in slanted letters in a child's notebook where she imagines herself to be a very busy star. It continues with the purchase of an electric guitar to sound like Chrissie Hynde, the singer of the Pretenders. The rest, it will explode like a grenade and blow everything in its path…
Slices of life
This documentary denotes favorably those already made around other French singers. Here open the backstage of the second album, Heart, produced with Ambroise Willaume, producer and friend of Clara. This recording experience in the midst of the Covid-19 epidemic is punctuated by flashbacks. These flashbacks retrace the artist's early childhood in the city of Martigues, his arrival in Paris, his experience as a performer in the group La Femme, but also his first scenes and his fears. The heartaches, too, of this great lover.
We rediscover the child who was bothered in the playground because " too big", "too different". She has evolved well and appears as a smiling 30-year-old young woman. Completely fulfilled? If she shines with a thousand lights in her sequined stage costumes, a part of the insecure young girl still lies dormant inside her.
Read also"I prefer to talk about my record": Clara Luciani embarrassed by a question from Laurent Ruquier about his private life
Throughout these 90 minutes, the singer shares her ubiquitous doubts. Her demand for herself – which is certainly not the expression of false modesty – constitutes the real red thread of this documentary. For those around her, she remains"The Girl Who Never Loves Herself Enough" and yet it is undoubtedly this rigor that will ultimately push her to demonstrate strength and resilience. Some of his relatives also intervene according to the interviews. They tell slices of life of Clara Luciani.
His mother and father (singer and amateur rock guitarist) as well as his older sister, Ehla Luciani, also a singer, were approached. His companion, rocker Alex Kapranos appears a few times, furtively. If the singer evokes her grandfather, her hero with her false airs of Vittorio Gassman, she nevertheless retains great discretion about her private life, as if to keep intact the secret garden where she draws her beautiful inspiration. The brunette with the fringe keeps a part of mystery.