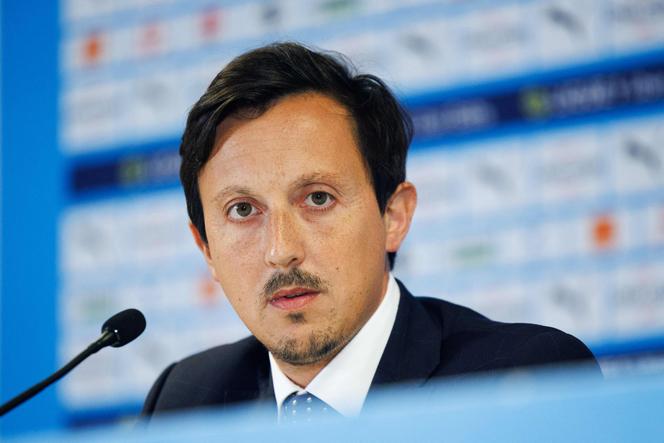 After several days of procrastination, Pablo Longoria decided to stay. The Spaniard made it known, Friday September 22, that he intended to remain president of Olympique de Marseille (OM), a position he has held since February 2021. However, he admitted to having thought about stepping back these last hours, because of the threats he received from certain supporters group leaders.
"I am regaining energy and I have decided to continue my mission"declared the leader to journalists, adding that he had made his decision "touched by the outpouring of popular support and the expressions of affection and confidence from all sides, players, supporters, actors in the economic and political world, institutions… All those who understood the need for change. » He also explained that he had "a very long conversation with Frank McCourt"owner of the club, as well as with the members of the supervisory board, who " showed unconditional support".
The day before this declaration, Pablo Longoria had given up taking part in OM's trip to the Netherlands, for the match against Ajax Amsterdam in the Europa League. It was therefore from afar that he had witnessed in the draw with twists and turns for his men (3-3), just like most of the other club officials, who had also skipped this trip in the heart of a hectic week. But, this Sunday, the Spaniard ured him: he will be at the Parc des Princes for the clash of the 6e day of Ligue 1 against Paris Saint-Germain.
"End patterns of behavior"
During his intervention, Pablo Longoria did not wish "look back at what happened on Monday", just throwing: "Unacceptable!" Unacceptable! " THURSDAY, in everyday life Provence, he had revealed part of the behind the scenes of the meeting at the start of the week between OM management and representatives of supporter groups. "I was able to speak for two minutes, then I was cut off and things got out of control very quickly… We were told: "All four of us resign [Longoria ; le directeur du football, Javier Ribalta ; le directeur général, Pedro Iriondo ; et le directeur financier, Stéphane Tessier], otherwise it's war." »
"In 2023, a manager of any club cannot suffer these threats. I don't accept them. I wasn't scared, but I was shocked. I don't think this is normal.", he also insisted with the regional title. Pedro Iriondo was also present Friday afternoon at the La Commanderie training center where the club president had invited the press.
If he denies wanting " feed [le] conflict "Pablo Longoria, however, asked his lawyers to file a complaint. " Simply [pour] put an end to patterns of behavior so that this type of situation does not happen again"he justified. "I live complicated days with a lot of emotion", he argued. The crisis at OM caused, on Wednesday, the departure of coach Marcelino after only seven games on the Marseille bench.