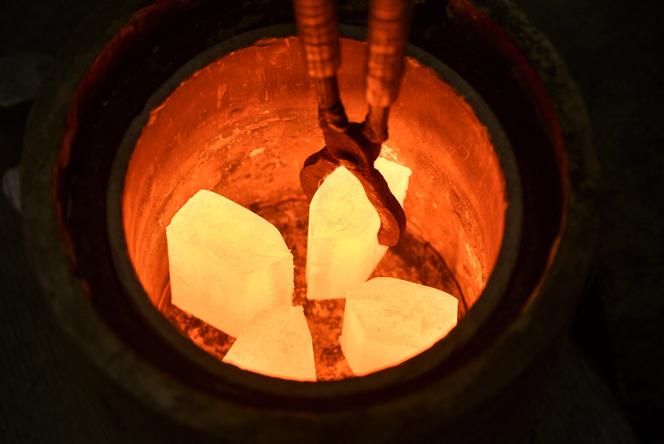 GWhen blown with helium, palladium has long flown from record to record. Regularly winning the medal for raw material jumping the highest over a year. In March 2022, the culmination of its stratospheric rise, the metal shattered its record, at 3,442 dollars (3,233 euros) per ounce. Palladium at its best. Since then, the tide has turned, and the balloon began to deflate inexorably.
At the end of 2022, the price fell below $2,000 per ounce. Today, it is approaching $1,130. That is to say a decline of almost 40% since the 1er January. Palladium has left the podium. It had stolen gold's title as the most precious metal during its irresistible rise, but the yellow metal has regained its crown. He won it at the beginning of January, when drawing kings. Since then, he hasn't left her side and for the moment she seems well anchored. At the end of October, the ounce of gold even touched the $2,000 per ounce mark. Tensions in the Middle East have heated up the yellow metal.
In March 2022, it was also geopolitics that propelled palladium towards its historic record. And for good reason. The invasion of Ukraine by Russian troops led by Vladimir Putin had ignited the trading rooms. Russia is, in fact, the leading supplier, with nearly 40% of world volumes, of this metal which made the fortune of Vladimir Potanin, the boss of the world's largest producer of palladium, MMC Norilsk Nickel PJSC. Fear of supply difficulties linked to sanctions had fueled speculation. Eventually, the fever subsided, trade flows were not cut off, and the metal continued to circulate.
"The markets have changed their outlook"
Today, it is the state of the global economy that is blowing hot and cold. "Markets have shifted their focus to macroeconomics, and palladium shares a common history with industrial metals. It is highly dependent on business demand," underlines Yves Jégourel, co-director of the CyclOpe report and specialist in raw materials. The slowdown in the Chinese economy is weighing heavily on prices. Palladium is not immune to this decline.
Palladium also faces its competitor platinum. Both compete for favors in the automobile industry. A pinch of these materials slips into the exhaust pipes to filter polluting emissions from gasoline engines. Even if the strengthening of environmental legislation made these components strategic, manufacturers coughed when the bill soared. And platinum, less expensive, competed with palladium.
You have 10% of this article left to read. The rest is reserved for subscribers.