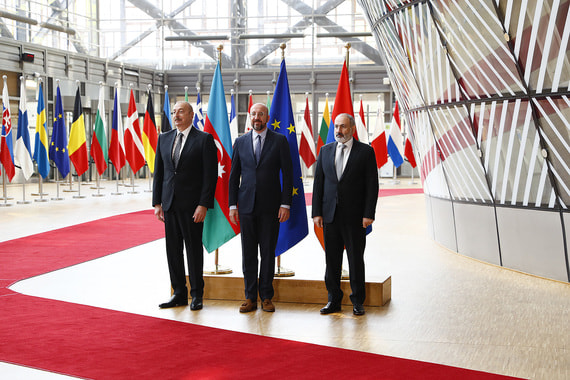 On May 14, trilateral talks were held in Brussels between Armenian Prime Minister Nikol Pashinyan, Azerbaijani President Ilham Aliyev and President of the European Council Charles Michel, the press service of the Armenian Prime Minister reported.
The meeting participants discussed the situation on the border between Armenia and Azerbaijan, the unblocking of the regional transport and economic infrastructure, an agreement on the settlement of relations between Baku and Yerevan, and humanitarian issues.
The parties will continue discussing these issues on June 1 in Moldova with the participation of the leaders of Germany and France on the sidelines of the summit of the European Political Community. In a trilateral format, negotiations will be held in Brussels in July.
Earlier on May 11, Yerevan again accused Baku of shelling Armenian positions. Pashinyan then stated that Azerbaijan was taking provocative actions aimed at nullifying the progress made in the course of negotiations with Armenia earlier.
Chairman of the State Duma Committee on CIS Affairs Leonid Kalashnikov then told Vedomosti that clashes on the border of the two states would continue until a peace treaty was signed. According to him, the settlement of the conflict is possible only with the participation of Russia.
The trilateral meeting of the heads of Russia, Armenia and Azerbaijan on the settlement of the Armenian-Azerbaijani conflict in Sochi took place in October 2022. Both sides of the conflict then promised to resolve all issues peacefully and stressed the importance of preparing for the conclusion of a peace treaty between Yerevan and Baku. On May 1-4, talks between the foreign ministers of the republics were held in Washington.