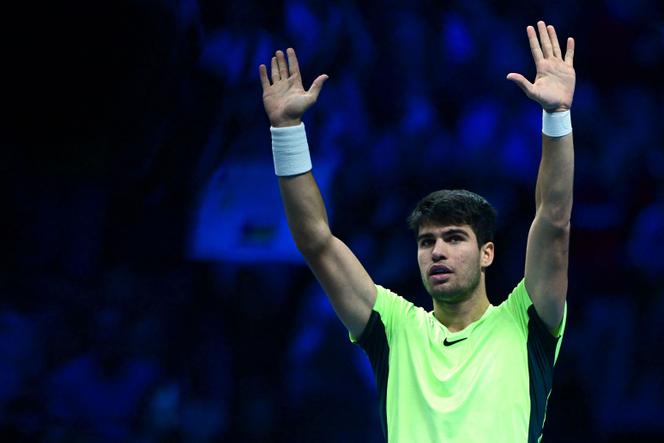 By reserving their place for the final group match of the Masters, Turin tennis fans expected to enjoy a high-stakes match. It won't happen. The meeting between Andrey Rublev (5e world player) and Alexander Zverev (8e), scheduled for Friday November 17 at 8:30 p.m., will ultimately be a gala match. Even if 200 ATP points are at stake and 390,000 dollars (358,000 euros) are up for grabs, the two athletes can no longer reach the final four of the competition.
In their "red" group, a few hours earlier, Carlos Alcaraz (2e) disposed of the Russian Daniil Medvedev (3e) two sets to zero (6-4, 6-4) and grabbed the last ticket for the semi-finals. For his first participation in this tournament which brings together the eight best players of the season, the Spaniard, who was injured in 2022, will have a lot to do to reach the final. Saturday, from 9 p.m., he will be opposed to best player in the world, Novak Djokovic.
The Serbian owes, in large part, his presence in the semi-final to the stage venue Jannick Sinner (4e). With a defeat against Sinner and a set conceded to Hubert Hurkacz (9e), the world number one was no longer in control of his destiny to finish in one of the first two places in the "green" group. But thanks to the victory of the Italian – who had nothing left to play – against a disappointing Holger Rune (8e), Novak Djokovic is still able to defend his title. Already titled six times at the Masters, "Nole" will have to show a better face against Carlos Alcaraz in the semi-final.
A new record in sight for Djokovic
This "green" group was topped by Jannick Sinner, winner of these three group matches. If the Transalpine wins these ATP Finals, he will pocket the "jackpot" of 4,801,500 dollars promised by the ATP in the event of an "undefeated winner". First in his group, the Italian will face Daniil Medvedev on Saturday at 2:30 p.m., second in the "red" group despite his defeat against the Murcian. The winner of the match will then have to wait a few hours to find out whether Novak Djokovic or Carlos Alcaraz will accompany him to the final.
The Serb will have plenty to be motivated at the time of his confrontation with Alcaraz. In addition to finding the one who deprived him – at Wimbledon – of the calendar Grand Slam this season, the world number 1 would get closer to a new record in the event of victory against the Spaniard. If he wins in Turin, Novak Djokovic would become the player who has won the Masters the most times. A record (six titles) that he currently shares with Roger Federer.