Pro-Russian demonstrators in Prague wanted to tear down the flag of Ukraine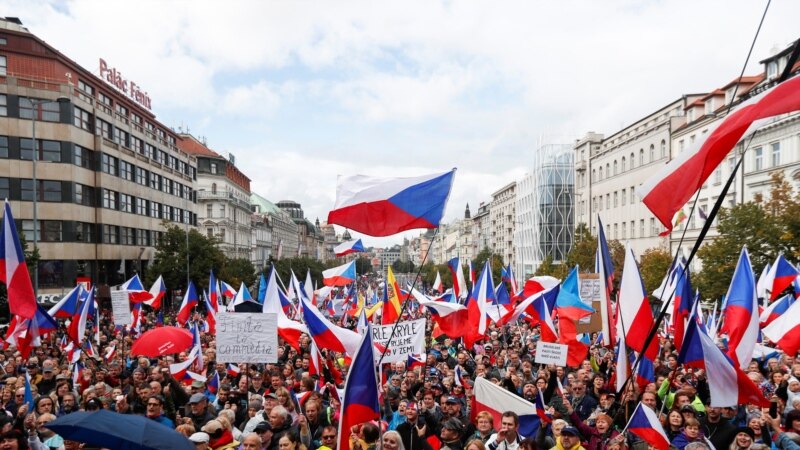 In the capital of the Czech Republic, Prague, several thousand people took part in an anti-government demonstration on Saturday. It ended in a clash with the police – after dozens of demonstrators tried to break into the building of the National Museum on Wenceslas Square in order to tear off the large flag of Ukraine, which was hung last year as a sign of solidarity with this country, from its facade.
Police reported about 18 detained demonstrators, two policemen were injured in the clash.
The demonstration was held under the slogans of the fight against poverty, it was called by political forces not represented in the parliament, some of which adhere to pro-Russian positions. A number of speakers accused the Czech government of the fact that the policy of supporting Ukraine, which it is pursuing, leads to an increase in prices in the country and a decrease in the standard of living. There were calls for actions of disobedience.
At the demonstration itself, one of the participants who came to the square with the symbol "Z" and the emblem of "PMC Wagner" was detained.
Similar anti-government demonstrations, the participants of which, under the slogan of fighting inflation, oppose support for Ukraine, have been taking place in the Czech Republic since last fall, but this was the first time a clash with the police took place.
The Minister of Internal Affairs of the Czech Republic, Vyt Rakushan, called on the organizers of the demonstration to distance themselves from the demand for an attack on the museum. "It gives the impression that the whole so-called demonstration against poverty was just a screen for pro-Russian provocation," Rakushan said.
The government of the Czech Republic adheres to a hard line in relation to Moscow in connection with the war in Ukraine, and Petr Pavel, who recently took office as president, also supports this policy. At the same time, the economic policy of the government, in particular, the recently adopted decision to reduce the level of annual indexation of pensions of the council to combat the budget deficit, causes disputes in society.