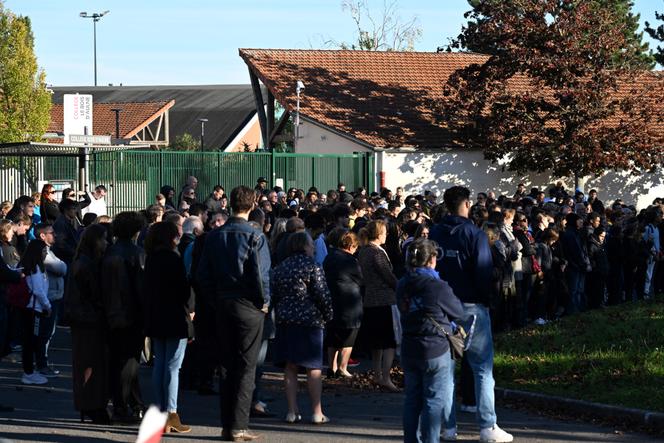 Around ten teachers from the Bois-d'Aulne college, in Conflans-Sainte-Honorine (Yvelines), as well as one of their former colleagues, intend to become a civil party in the trial of the six teenagers referred to the juvenile court in connection with the ination of Samuel Paty, which will be held at the end of November. The history-geography teacher had his throat slit and then beheaded on October 16, 2020, not far from his establishment by a young jihadist of Chechen originAbdoullakh Anzorov, killed on the spot by the police.
The case was split into two trials. The first will concern the five students who named Mr. Paty as his killer on the day of his ination as well as the young girl who had triggered the fatal controversy at Samuel Paty by reporting to her father, Brahim C., in an erroneous and misleading manner, the progress of the moral and civic education course during which caricatures of Mohammed were shown in cl. It will be held behind closed doors before the Paris juvenile court, from November 28 to December 8. The trial of the eight adults, including two for "complicity in terrorist ination" and six for "criminal terrorist ociation", will take place at the end of 2024.
No compensation requested
The teachers at the Bois d'Aulne college hesitated for a long time before becoming a civil party and discussed it extensively among themselves. These teachers do not want to offend the Paty family and sent him, Wednesday November 8, through their lawyer, a letter to explain their choice. "We are in no way comparing what we suffered with what Samuel's loved ones suffered. Our only motivation is to be able to attend the teenagers' trial. Without the closed session, we would not have taken the step. These are our former students. We need to understand how they came to name their teacher a terrorist", says a teacher who wishes to remain anonymous. These teachers are not asking for any compensation, she ures.
During his hearing before the Senate commission of inquiry into "threats and attacks against teachers", on October 17, Mickaëlle, Samuel Paty's sister, had very harsh words towards her brother's ex-colleagues, accusing them of not having protected him, or even of having given credence to the rumor. accusing of Islamophobia. In his book The Last Days of Samuel Paty: investigation into a tragedy that should have been avoidedpublished in the spring by Plon (20.90 euros), journalist Stéphane Simon revealed the first names of Samuel Paty's colleagues by reproducing internal emails disapproving or, on the contrary, supporting his course which gave rise to controversy.
You have 50% of this article left to read. The rest is reserved for subscribers.