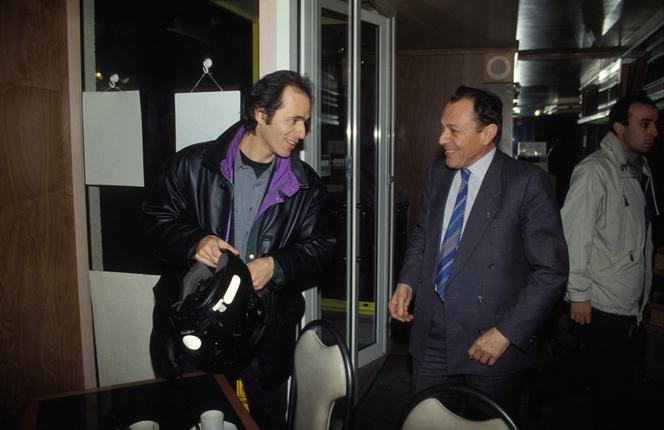 "Goldman", by Ivan Jablonka, Seuil, "The bookshop of the XXIe century", 400 p., €21.90, digital €16.
Can a historian, like a singer, make a "hit"? Ivan Jablonka does not hide having felt a little of this desire while writing Goldman : "I don't want to have only colleagues, I want to have an audience", recognizes the professor of contemporary history at the Sorbonne Paris-Nord University, explaining to the "World of Books" the importance he has given to the readability of his book devoted to the author-composer-performer. Hence a clear style and short chapters, as were those of Laëtitia or the end of men (Seuil, 2016), investigation into a news item that earned the researcher the Literary Prize The world and the Prix Médicis, and had a resonance to which his previous works had not accustomed him.
What prompted him to write this text, however, was not the hope of making the equivalent of the song in the social sciences. I give you. After writing two essays which he defines as "socio-histories of [s]we childhood », In motorhome And A boy like you and me (Seuil, 2018 and 2021), the intellectual born in 1973 reflected on the fact that these young years had had for " soundtrack " the hits of Jean-Jacques Goldman, permanent guests of the Top 50 from 1982.
This then occurred to him: "It is a point of intersection of several of my questions and my books. » The trajectory of the Goldmans, Polish Jews who immigrated to France, echoed that of the Jablonkas, reported in Story of the grandparents I didn't have (Threshold, 2012). The political choices of Albert Goldman, the communist and resistant father, of Pierre, the half-brother "leftist" (1944-1979) who experienced a violent drift, and of Jean-Jacques, holding a "Social Democratic Second Left"said something about "the history of the French left"which interests him as a historian and as a citizen.
That the singer embodied "dissident masculinities for which he was denigrated" could only attract the author of righteous men (Threshold, 2019). Finally, the researcher considers it important to look at pop culture, in his eyes neglected: "I find it sad and regrettable that the social sciences are turning away from m culture. Academicism wreaks havoc and produces areas of ignorance. » Ivan Jablonka recognizes, however, that he did not set about this work to fill this supposed "historiographic gap" : the fundamental impulse is " pleasure ". Who hardly left him when he was working on this crossing project "biography of Jean-Jacques Goldman, portrait of the society that made "goldmanism" possible and collective autobiography".
You have 66.87% of this article left to read. The following is for subscribers only.