Putin congratulated Russian women on March 8 and noted the courage of female soldiers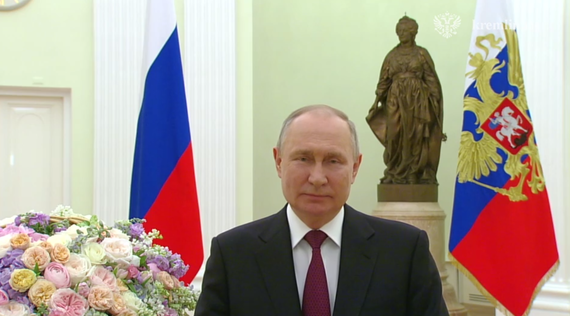 Russian President Vladimir Putin congratulated Russian women on International Women's Day and noted the role of female servicemen, whose courage "amazes even the most seasoned fighters." The video message of the head of state was published on the Kremlin website.
Putin in his congratulations noted that this holiday in Russia is filled with special warmth and meaning, kind, bright and sincere feelings: "because the sublime, respectful attitude towards a woman, towards motherhood is an absolute value for us, passed down from generation to generation."
Separately, the President congratulated the female servicemen who had chosen "the highest mission – the defense of the Motherland."
"Women, girls from combat units, military doctors, paramedics, nurses from regimental first-aid posts, medical companies, hospitals and hospitals, those who, at the risk of their own lives on the front line, save the wounded," Putin said, adding that their courage, determination and courage "amaze even the most hardened fighters."
In difficult times, according to Putin, the indifference and responsiveness inherent in women "turn into a powerful force," and now the inhabitants of Russia sincerely support soldiers and officers, including strangers, the head of state stressed. They write letters, collect parcels, work as volunteers in hospitals, he listed.
"You inspire, inspire faith, help our heroes, regardless of the distance, feel a piece of home, and your compassion, mercy are able to create – and work – real miracles," the President said.
On March 7, Russian Defense Minister Sergei Shoigu said that now 1,100 female servicemen are participating in the military special operation, and every third of them has been awarded state awards. He also said that over 39,000 women serve in the ranks of the country's Armed Forces, almost 5,000 of them wear officer shoulder straps.