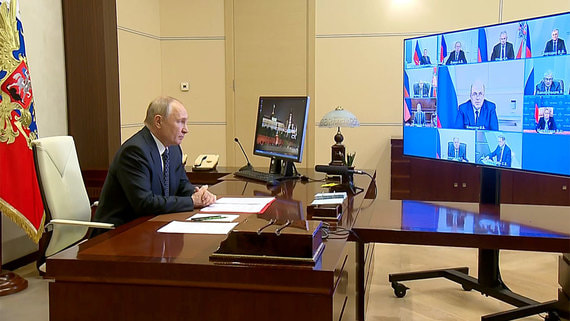 Russian President Vladimir Putin held an operational meeting with permanent members of the Russian Security Council, during which he discussed ensuring Russia's information security. The Kremlin press service reports this.
"Today we have an important and very relevant issue – not only, by the way, for our country, but for us in particular, especially considering the current situation – the issue of increasing the effectiveness of measures to ensure Russia's information security," he said.
Director of the Federal Service for Technical and Export Control Vladimir Selin made a report at the meeting. Also present at the meeting were Russian Prime Minister Mikhail Mishustin, Federation Council Speaker Valentina Matvienko, State Duma Speaker Vyacheslav Volodin, Deputy Chairman of the Security Council Dmitry Medvedev, Interior Minister Vladimir Kolokoltsev, Defense Minister Sergei Shoigu and others.
On November 9, the Security Council reported that Russian information resources are increasingly subject to cyber attacks from foreign intelligence services. Over the past few months, several large platforms have been attacked, including the website of the Russia exhibition, which takes place at VDNKh, the website of the National Payment System (NSPK) and the Mir payment system, as well as the Leonardo reservation system.
President and Chairman of the Board of Sberbank German Gref said that in October Sber faced the most powerful DDoS attack in the history of the organization. The hackers wanted to disable the bank's website by sending 1 million requests per second, the bank's press service clarified. According to Gref, "some new, very qualified criminals" have appeared on the market who regularly attack the largest Russian resources.