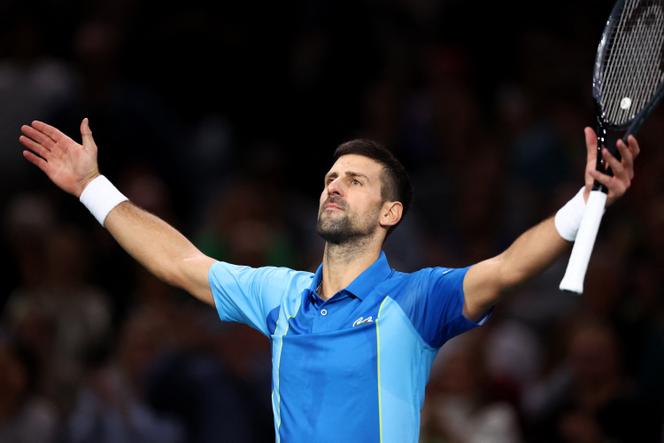 Novak Djokovic was not necessarily in a hurry to meet Holger Rune, in the quarter-finals of Bercy, Friday November 3. Not because he feared the 20-year-old Danish troublemaker, who had paid off his elder brother with panache in the final of the 2022 edition of the Parisian tournament. If the Serb had any apprehension, it was with regard to his opponent's clan, in the stands.
In the front row, there was an old acquaintance: Boris Becker, his former coach (between 2014 and 2016), who had recently arrived at the Dane's bedside, after having been in prison. Between April and December 2022, the former world number 1 will have spent eight months behind bars for having concealed 3.1 million dollars (3 million euros) in ets and loans and thus avoiding paying his debts, estimated to almost 60 million euros in 2017.
"It won't be nice and comfortable for me to have him in the opposite box, if I play against Holger," had imagined the boss of the circuit, Tuesday, on the eve of entering the competition in the capital, without knowing that this possibility would materialize three days later. Friday, if he was hung up for almost three hours, he took his revenge on his younger brother in three sets (7-5, 6-7, 6-4) without ever appearing feverish.
His "worst tie-break"
Or more precisely only once, for his traditional outburst of anger which adorns each of his matches: at 5-4, 30-15 in his favor after winning the first round, he attacks the French referee, Renaud Lichtenstein , complaining that he allowed Rune to request a challenge too late, on a ball which offered him two match points. A minute later, Djokovic this time had an opportunity to end the game, without success. The Dane's creativity allows him to get back to a set everywhere at the end of a one-sided decisive game, one of the few lost by the metronome of Belgrade this season and " probably [son] worst tie-break."
During three sets, the world number 7 tried to apply the same recipe that had favored him last year to lift the trophy: tennis with a good dose of risk-taking and varied playing patterns. But that was not enough for him to overthrow his glorious opponent, who had regained momentum since the day before.
Unrecognizable Thursday in the round of 16 against the Dutchman Tallon Griekspoor, where he had to draw for three sets (4-6, 7-6, 6-4) to get by, the world number said he was weakened by an intestinal virus: "It's hard to have a clear mind when you spend more time in the bathroom than on the court over the last three days," he imagined to summarize his current form at Bercy. But the Serb's law is ruthless: even at 20% of his resources like Thursday, his margin over three-quarters of his opponents is such that he almost always ends up escaping.
You have 40% of this article left to read. The rest is reserved for subscribers.