Rabiot's evasive answers on his positioning on D-4 from France-Australia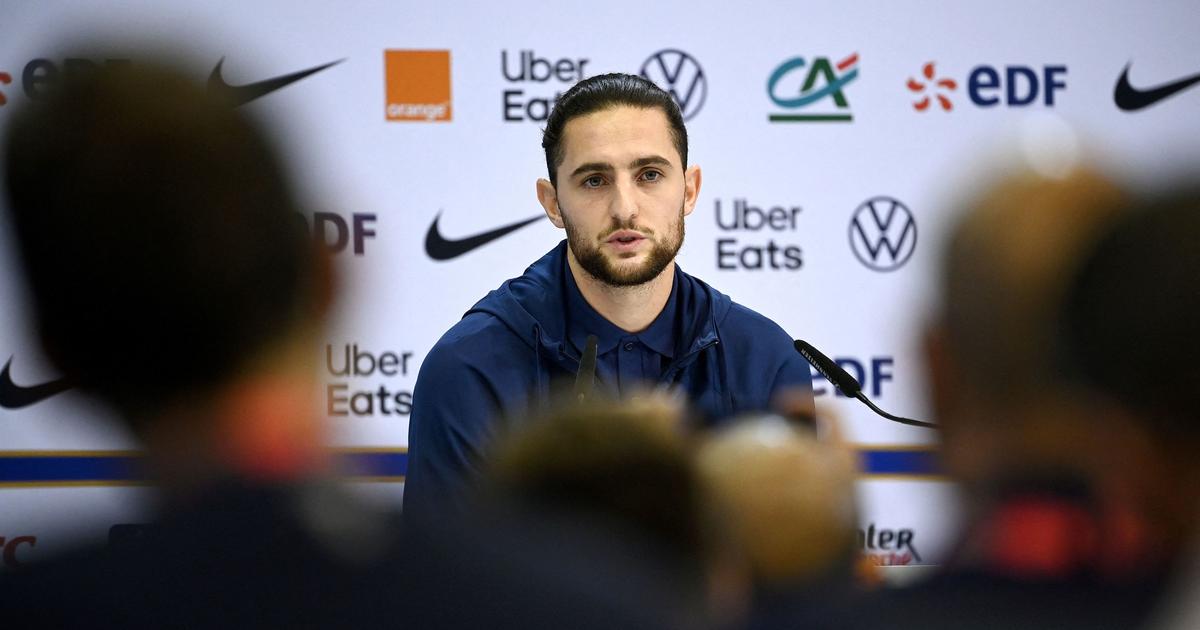 Promised for an important role at the World Cup, the midfielder of Juventus spoke about his positioning four days before the first match of the Blues.
At the Jassim-bin-Hamad stadium,
"If my image is a little blurry, it's because I want it, I don't spread out a lot". Signed Adrien Rabiot this Friday, at the Al-Sadd stadium, at a press conference. What about his position on the field during this World Cup (November 20-December 18) which he swears is "not a revenge"Compared to his tormented past in selection? Also, it's blurry. To see if Didier Deschamps, deprived of Paul Pogba and N'Golo Kanté, will opt for a middle two or three. One thing is certain: Rabiot sees himself as a "balance player". "This is what suits me best. The coach found these words right. We agree on that. As for my role, we haven't talked about it yet. It will be done in the next few days", swears the player of Juventus, at the end of the contract at the end of the season. "A turning point? No, but I'm in my last year of contract at Juve, it can help me for the future", he slips mischievously.
For that, it would still be necessary that "Rabiotte" (that's how Unai Emery pronounced his name at PSG) shows itself in its best light. As the most experienced player in the middle (27 years and 29 selections), should enjoy an important status with the Blues. The ex-Parisian, however, does not hide his preferences in terms of positioning. "I feel good in the heart of the game, that's where I feel best and where I evolve with Juventus. My marks are there", he hammers. And if Deschamps decided to entrust him with a role "à la Blaise Matuidi", rather on the left in order to block the corridor? "Compared to Blaise, we have different qualities. We are not the same players. But if I had to evolve in a similar role, of course I would. Would that be the best thing for the team? We will have to discuss it with the team and the coach", he slips.
Read alsoWorld Cup: Doha rises (very) timidly in temperature
If so, not sure that the coach really wants to "discuss". Rather to inform the players concerned… Still, Adrien Rabiot, who spoke this Friday before the teaser warrior Lucas Hernandez, is looking forward to having this status as a guide for the youngest of his teammates. "When I'm on the pitch, I have a different personality than outside. I help my teammates, I want to pull them to the maximum, without looking at who I have next to me. It's natural, I always want to win", he explains. And to add, about his exchanges with his club teammate Paul Pogba, package : "He gave me his encouragement, said he would follow us and he asked me to shoot this team and this midfielder as I can do at Juve.»
It's exciting to defend your title and aim for the final victory.

Adrien Rabiot
It remains to be seen in what position, therefore. A subject that has often come up in the career of the Ile-de-France, from PSG. "It's true that I played in different positions in Blue. I have often been criticized for not wanting to do it in the past… This question is a bit funny so, he quips. But I feel good. The main thing is to respond. I prefer to play where I am the best, where I can show all my abilities and help the group as much as possible. It's up to the coach to decide, he knows what I can bring to this team and I think he makes the best decisions.A discourse of reason, which contrasts with certain more evasive answers. Rabiot obviously arrives with a positive state of mind. "The 2018 World Cup was a big disappointment. I worked a lot to be there, I see it as an opportunity. (…) It excites me to be there, most likely a starter, it's a great responsibility. I am a competitor. I'd rather be in this position than four years ago. Many players would like to be there", he assures. It's up to him to take full advantage of it.
One thing is certain: a French coronation would not hurt the image of Adrien Rabiot. "When things are going well, everyone has a good image, everyone is strong, and it can be the other way around too, but I'm not focused on that, I'm on my football and the fact of go as far as possible in the competition", swears the Turinese, ambitious. And to continue:It's a lot of responsibility to be world champion and a big challenge. It's exciting to aim for the final victory. It won't be an easy task, but we have the opportunity to do something historic". It starts on Tuesday (8 p.m.), against Australia.
Since 1930, all the courses of the Blues at the World Cups?
---
SEE ALSO – World Cup: Adrien Rabiot is "grateful" for his return to Blue after "a big disappointment" in 2018