Roland Jourdain will start the Route du Rhum with a flax fiber bridge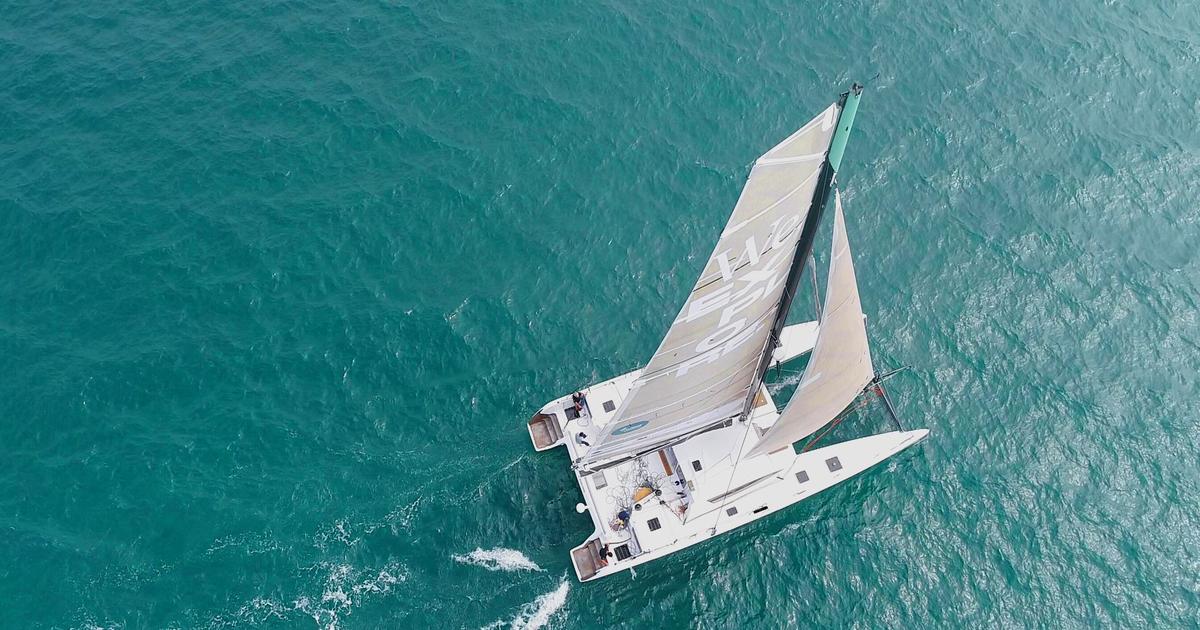 FIGARO DEMAIN - With small steps, the nautical industry is replacing fiberglass with linen fiber for boat building. An ecological material produced in France and still widely exported.
It is at the helm of a singular catamaran that navigator Roland Jourdain will line up at the start of the rum route, on November 6th. Lighter, more technological than competitors? Nope! But more ecological. So decided "Bilou" (the nickname of the navigator) who, for ten years, has been worried about the environmental impact of offshore racing. With the Outremer shipyard, they made the choice to manufacture the deck of this vessel, baptized We explore flax fiber rather than fiberglass. "Produced 100% in Normandy, this material has excellent vibration absorption capabilitiesboasts the browser. It holds up well to tensile strength. Our experimentation opens up many possibilities for the naval world!" One hectare of flax was needed to make the boat.
The hull remains fiberglass. "It's a basic rule taken from aeronautics: when you exceed 15% of innovations, you're going to be in trouble", justifies the sailor. The leaders of IDB Marine, builder of pleasure boats in Trégunc (Finistère), have nevertheless allowed themselves this little madness. For fifteen years, their shipyard of 25 people has been building its fiberglass hulls. Four years ago, a young intern with a green soul suggested they use flax. After experiments, the company converted 50% of its production. "Originally, flax fiber is hydrophilic. Once filled with resin, it is no longer a problem, explains Édouard-Pascal Benois, the co-director, we have reviewed our manufacturing techniques. It is more comfortable to work linen; fiberglass itches. In the workshop, it smells of hay. And we have a French sector working. Cocorico what!His boats have become 4% heavier. A lesser evil. Especially since having made this choice before the health crisis now allows the company not to depend on the import of Chinese fiberglass, which requires a lot of energy to be produced.
France, the world's leading producer
"We have not escaped rising costs; but we have lowered our carbon footprint," welcomes Édouard-Pascal Benois. As for the recycling of a linen shell, it presents the solution of crushing or thermal recovery, by incineration. Fiberglass cannot be incinerated. Nevertheless, the entrepreneur, who obtains his supplies from the Normandy cooperative Terre de lin, does not yet find a choice of fabrics with weights and thicknesses as varied as with fibreglass. "We are working on it!" proclaims Laurent Cazenave, spokesperson for Terre de lin. "In ten years, we have been able to offer homogeneous, standardized products capable of meeting most composite requests. We keep improving them."
In addition to the maritime sector, which is on the rise, Terre de lin is developing in furniture, sports accessories (Salomon skis) and cars. It remains that these promising sectors are only in their infancy. The 110,000 hectares of flax that make France the world's leading producer are still more than 90% destined for textiles, 85% exported to Asia and 15% to Europe. There are still many naval manufacturers to convert for the sector to represent a substantial market.
Society, health, environment, education, energy