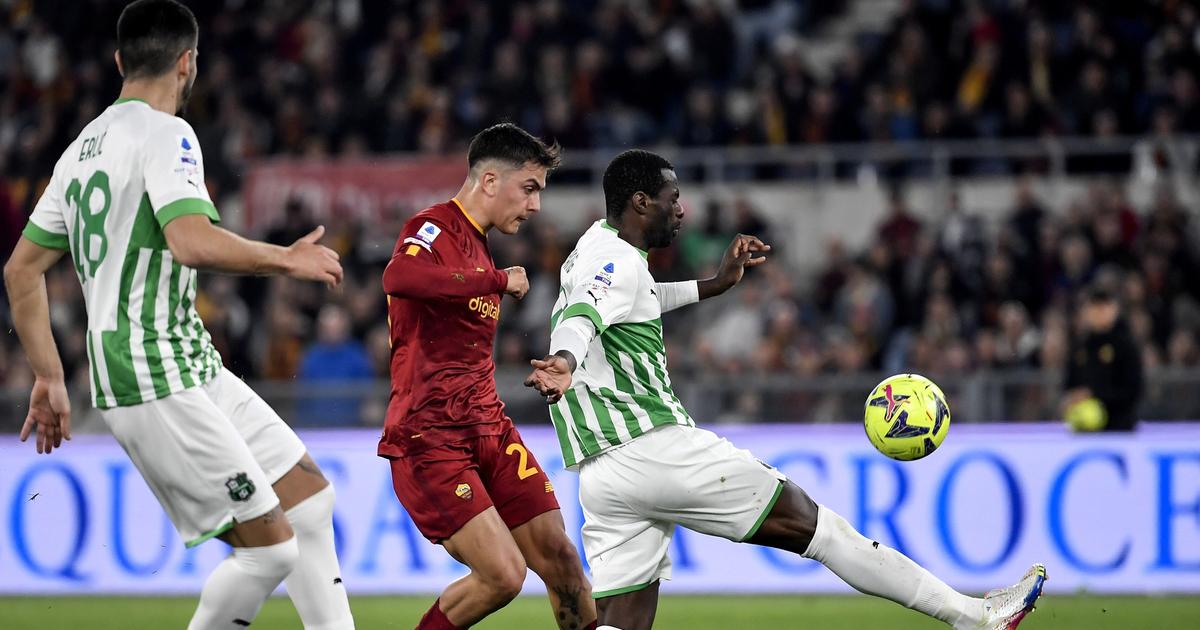 Reduced to 10, José Mourinho's team lost (3-4) and missed the opportunity to join Inter Milan in second place.
AS Roma, at ten throughout the second half, missed the opportunity to join Inter Milan in second place in Serie A by losing against Sassuolo (3-4) in a crazy match, launched by a double from Armand Laurienté.
The former Lorient striker took less than twenty minutes to sign his first double in Serie A (7 goals in all) by taking a shot from Andrea Pinamonti repelled by Rui Patricio (13th) then a center back from Domenico Berardi (18th).
Mourinho suspended
Without his trainer Jose Mourinho, suspended and supported by many waved white handkerchiefs in the Stadio olimpico to protest against this sanction, Roma quickly reacted on a volley from Nicola Zialewski (26th).
But the recovery operation hoped for by the tifosi giallorossi took the lead in the wing when Marash Kumbulla lost his nerves by kicking Berardi, on the ground in the area, just before the break: direct red card for the Roman defender and penalty for Sassuolo that the same Berardi transformed without shaking (45 + 4th, 1-3).
Paolo Dybala, launched on the resumption in the battle, maintained the hope of a magnificent strike under the bar (50th).
But the ten Romans gradually showed fatigue and left more and more space against the Neroverdi, who quite logically took off on a cross shot from Pinamonti (75th, 2-4).
The final Roman goal of this game with twists and turns, the ex-Parisian Georginio Wijnaldum (90 + 4th), had no other use than to heighten even more the regrets gliallorossi.
In the race for the four qualifying places for the Champions League, Roma (5th, 47 pts) therefore misses the opportunity to catch up with Inter Milan (2nd, 50 pts) and above all to overtake Lazio Rome (3rd, 49 pts). ) ahead of the capital derby scheduled for next Sunday. A derby for which Mourinho will again be suspended.