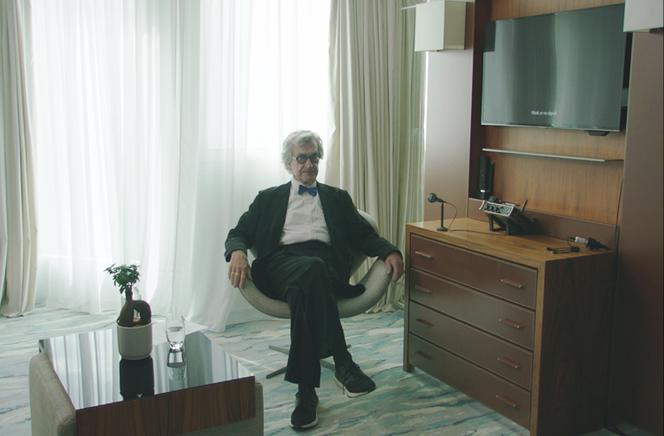 In 1982, on the occasion of the Cannes Film Festival, the German director Wim Wenders invited several of his colleagues, including Jean-Luc Godard, Werner Herzog, Michelangelo Antonioni and Steven Spielberg, to take part in a documentary entitled Room 666. In a room at the Hôtel Martinez, on the Croisette, with the television on in the background, the directors found themselves alone in front of a tape recorder and a camera with the mission of answering a question: "Is cinema a language in the process of being lost? An art that will die? »
At the beginning of the 1980s, the irruption of the video cette, the many closings of dark rooms, the privatization of television channels were on everyone's mind, and Room 666 has become a cult documentary. First by the impressive list of personalities who participated. Rainer Werner Fbinder, exhausted, unable to finish his sentences, appeared there for the last time before his death, a few weeks later, at 37 years old. But also for certain interventions, such as that of Jean-Luc Godard who, reacting to the broadcast of the Roland-Garros tournament on the television screen behind him, regrets: " Wim Wenders didn't put me in a good position to watch tennis. »
Forty years later, questions about the future of cinema are more topical than ever. Streaming platforms are becoming increasingly important. And the television channels, which have long financed the 7e art, seem to disengage from it… Presented as part of Cannes Clics, intended to celebrate heritage films, the film Room 999, by Lubna Playoust, in cinemas at the end of October, reproduces the experience of Wim Wenders.
Increased pessimism
The figures have been returned, but the device remains comparable to that defined by the director of Paris, Texas. The shooting took place last year in another luxury hotel on the Croisette, the Marriott. In the bedroom, a flat screen television displays the menu of a streaming platform. "By filming in digital, and no longer in 16 millimetres, explains Lubna Playoust, I could film the directors for forty minutes. I forced myself not to be in the room, like Wim Wenders at the time, so as not to give them the impression that they were being watched. »
The question posed to the filmmakers present at Cannes in 2022 – from Wim Wenders to Alice Rohrwacher via James Gray, Kirill Serebrennikov, Baz Luhrmann, Olivier ayas or Albert Serra – is the same as in 1982. In line with Room 666, Wim Wenders opens the film, with heightened pessimism. " From the very beginning, he explains, cinema quickly became a language and also very quickly an art. The most relevant or, at least, the most popular art of the XXe century. He had competition. First, with television, but cinema has overcome that. »
You have 37.28% of this article left to read. The following is for subscribers only.