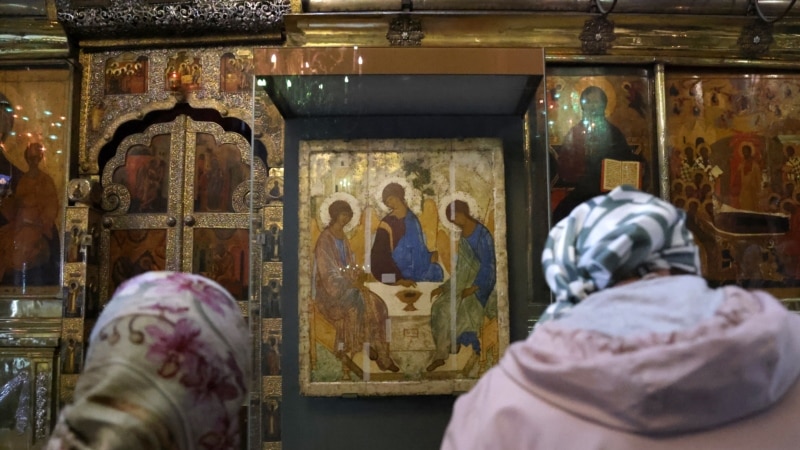 The State Tretyakov Gallery turned to the state corporation "Rosatom" with a proposal to create a climatic capsule for the storage of Andrei Rublev's "Trinity" icon.
Experts of the museum, which housed the "Trinity" since 1929, are convinced that such a capsule is a prerequisite for placing the icon in the Trinity-Sergius Lavra.
According to the publication of RBC, "Rosatom" and the Tretyakov Gallery are currently negotiating. The corporation is waiting for a complete technical specification from the representatives of the museum.
In May, the President of Russia, Vladimir Putin, ordered to transfer one of the most famous Russian icons, "The Trinity", painted in the 15th century by Andrey Rublev, from the Tretyakov Gallery to the Trinity Cathedral of the Holy Trinity Sergius Lavra. The museum community and a number of Russian scientists strongly opposed it. According to them, storing the icon outside the museum space, without the supervision of specialists and the necessary temperature and humidity conditions, will lead to its destruction.
The participants of the meeting of the restoration commission in the Tretyakov Gallery even declared that the transfer of the icon was impossible due to its unstable condition. After that, Patriarch Kirill removed from his post and banned the chairman of the ROC art council, archpriest Leonid Kalinin, who participated in the meeting and signed the protocol with the decision.
In June, the "Trinity" was transported from the Tretyakov Gallery to the Cathedral of Christ the Savior at the request of the Russian Orthodox Church – so that the faithful could worship it on the feast day of St. Sergius of Radonezh.
Later, the icon was transferred to the All-Russian Art Science and Restoration Center named after Academician I.E. Undertaker The decision on whether "Trinity" needs restoration will be made at a meeting of the extended restoration council. His date has not yet been announced.