Savanier as a savior, Gameiro too discreet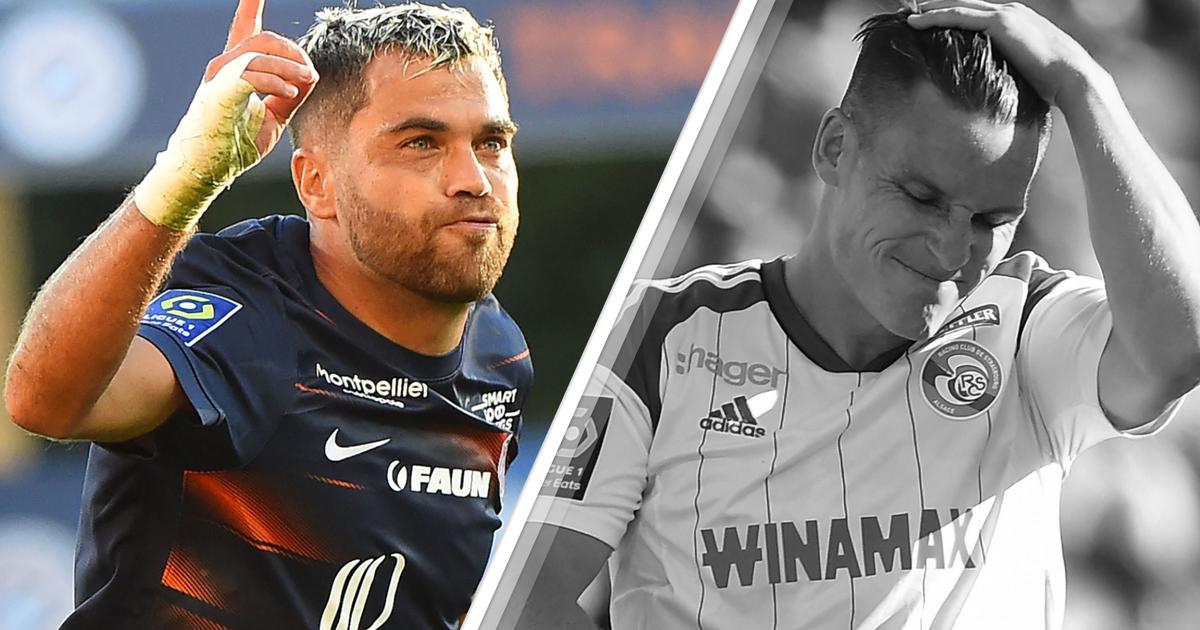 Montpellier overcame Strasbourg in the last seconds (2-1) on Saturday, during the 8th day of Ligue 1. Here are our Tops and our Flops.
TOPS
Montpellier set pieces
The Héraultais attempted no less than eight corners during this meeting and most of these opportunities resulted in a clear chance. The first scare came from a corner (8th) when Sels missed his aerial exit, while Cozza failed to find a teammate in the middle. Montpellier then worried the Strasbourg defense twice about this kind of situation: Wahi's two strikes were first repelled by the Racing goalkeeper (12th) while Aholou almost deceived his own goalkeeper (post, 14th ). Nordin finally managed to open the scoring... from a corner, taking over Savanier's cross with a powerful header (1-0, 17'). Bis repeated shortly before the break on a free kick from Savanier. Nicolas Cozza rode at the far post to take over Nordin's handover. But this second achievement was finally canceled by the VAR for an offside position (44th).
Savanier as a matter of course
In addition to being the official corner and free kick taker, Téji Savanier dressed as a savior on this sunny Saturday at La Mosson. The Montpellier captain transformed the winning penalty into force, provoked by Valère Germain in the last seconds of the match (90th + 4). With a goal and an assist, he is involved in both of his team's achievements. He caused four fouls while winning seven of his 11 duels. Savanier was the playmaker, the investigator of the majority of the clear chances of his team with 70% of successful passes. It's hard not to name him man of the match after making such a clean offensive copy.
Read alsoLigue 1: Savanier and Montpellier crucify Strasbourg after a crazy scenario
FLOPS
Gameiro ineffective
If Montpellier pocketed three points, the meeting was rather balanced overall. Strasbourg was able to respond with strong moments and interesting offensive phases. But it is precisely here that the shoe pinches for the Alsatians. Despite minutes of domination in the midfield, Julien Stéphan's men were sorely lacking in offensive realism. They had opportunities, but not really clear chances. Kevin Gameiro is the symbol of this inefficient offensive animation with only one small strike attempted in 90 minutes of play. He also won none of his eight duels, caused no fouls, managed no dribble, while losing 18 balls. A copy not far from being blank at the final whistle. On his biggest opportunity, the former Parisian was slow to strike and was caught by Maxime Estève, author of a big defensive comeback (40th).
Bellegarde at fault
What a complicated match for the middle of Racing... Jean-Ricner Bellegarde encountered many difficulties in the creation this Saturday with several completely missed crosses (1/7 successful). He also lost 29 balls, while committing a total of five fouls (yellow card, 50th). More than half of his duels ended in resounding failure against the Montpellier block. But above all: Bellegarde committed the irreparable in the last seconds of the match by causing the penalty for the victory of the locals over Valère Germain (90th + 3), while his defense was however in place and the danger seemed quite light.