scorer and always valuable, Giroud sends a message before the World Cup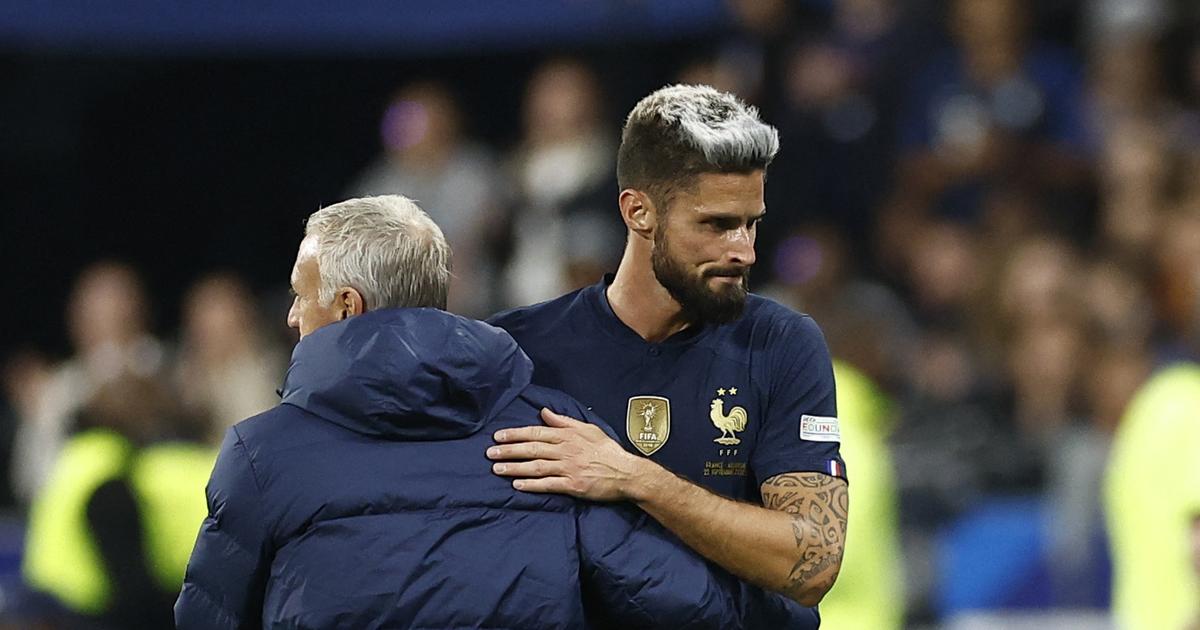 DECRYPTION – In balance for a place in the 23 for the World Cup, the Milanese has, again, given arguments to Didier Deschamps.
"Olivier Giroud doesn't have to convince me", said Didier Deschamps in a press conference, before this France-Austria (2-0) in the League of Nations. And the coach to add:He knows what I think. I won't go back on that". What "DD" did not want to repeat once again is that the second top scorer in the history of the Blues has a "status"Which he considers incompatible with a role of lining at the World Cup (November 20-December 18). "Olivier's objective is, like the others, to do everything to perform. There is competition, lots of competition, and there will be choices to be made."Explained the former midfielder, who intends to rely on the trio made up of Kylian Mbappé, Antoine Griezmann and Karim Benzema – package here – in the coming weeks, in Qatar.
And as every time the probable future Ballon d'Or Benzema is not there, he called Olivier Giroud, 35 years old but still dashing and who aligns the performances of choice and the goals with AC Milan (9 matches, 5 goals, 1 assist in 2022-23). Scorer at the March rally, absent in June, the former Montpellier player continued his momentum on Thursday evening, he who was established at the Stade de France, confirming what everyone already knew: he is not the most twirling, nor the more spectacular or the more exciting to see playing, not flashy for a penny, but that it is precious, useful in Blue...
49th goal in 113 caps
Author of his 49th goal in 113 selections (two goals from record holder Thierry Henry), from the head, a cross from Antoine Griezmann cut on a basketball extension in the 65th minute, the goal of the break after a new individual feat signed Mbappé (56th), Olivier Giroud above all shone with his game intelligence, his placements, his discounts, including two in quick succession for Mbappé and Griezmann (26th and 27th). A miss in front of goal on a good ball from Jonathan Clauss (39th) to discredit him. Replaced in the 79th by Christopher Nkunku, the native of Chambéry only touched 38 balls, it's his style, with four shots including one on target, two chances and 72% successful passes. But as so often, its impact is not limited to numbers. He weighed, oriented, opened up breaches, with Mbappé often exiled on the left, Griezmann who took a long time to get started before multiplying the caviars. Moreover, the Giroud / Mbappé connection worked perfectly this Thursday evening, which can also give ideas to the coach.
Which Deschamps must not have missed anything from Giroud's exit on RTL a few days ago : "I respect the established hierarchy but I'm always there to bring more to the team and do what I know how to do best to come back. Even being on the bench, I always shot in the direction of the team. I've never put the souk in a locker room, so that too is an important notion to take into account."And one more argument for Didier Deschamps to put his name in the list of 23 before the World Cup. That of the arguments which plead in favor of Giroud is as long as the arm, we saw it again Thursday evening, with this successful performance and the whole range of what he can bring, he who was certainly competing for one of his last matches at the Stade de France under the colors of the national team. It remains to be seen whether it was also one of his last matches in Blue… It's up to Deschamps to decide.