seeing his single-seater on fire, Gasly "quickly understood that he had to get out of the barbecue" (video)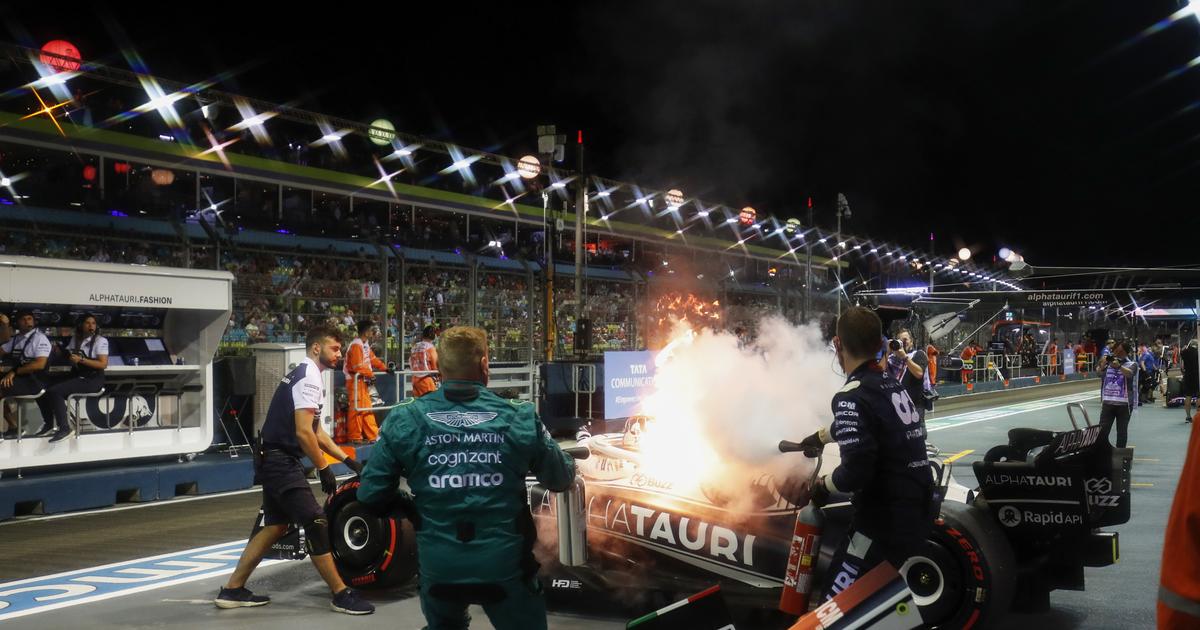 SCAN SPORT – The French driver from the Alpha Tauri team was the victim of a spectacular but ultimately harmless incident on Friday in Singapore.
More fear than harm. Seeing flames escaping from his Alpha Tauri during the second free practice session on the Singapore Grand Prix circuit, we could legitimately worry about Pierre Gasly. The images are impressive (see elsewhere). The French driver preferred to smile in front of the Canal+ cameras, especially since he was finally able to get back on the track afterwards. "It's a little weird when you see the flames in the mirrors but in the end, nothing to worry about, I was able to get out of the car quickly and we were able to leave afterwards", he underlines. And to continue:They didn't tell me anything. At the head of the mechanics, I saw that there was something wrong (smile). Afterwards, I saw the flames under the mirrors, the smoke coming out from under my helmet… I quickly understood that I had to get out of the barbecue." It was better.
It remains to be seen why his car caught fire in this way. "When I returned to the box, there is something that we should not necessarily have done in these conditions in terms of procedure. But nothing to worry about. It only burned a little paint", he said without giving more details on this procedural error.
galley day
One thing is certain: Pierre Gasly (1:44.469 – 22 laps) and his Japanese teammate Yuki Tsunoda (1:45.211 – 11 laps) did not make a spark on the Singaporean asphalt. "For the moment, we are clearly not very well, we are far from the Top 10 and there are significant differences compared to the last weekend, confirms Pierre Gasly. We have a lot of work to do for tomorrow. It was not an easy day neither for Yuki (Tsunoda) nor for me. We couldn't do as many things as we would have liked. We're going to have a pretty intense evening to get some performance tomorrow.» Remember that it is Briton Lewis Hamilton (Mercedes) set the fastest time of the first free practice session. The Spaniard Carlos Sainz (Ferrari) imitated him during the secondahead of his Monegasque teammate Charles Leclerc. Dutchman Max Verstappen (Red Bull) will have his first "title race" on Sunday.