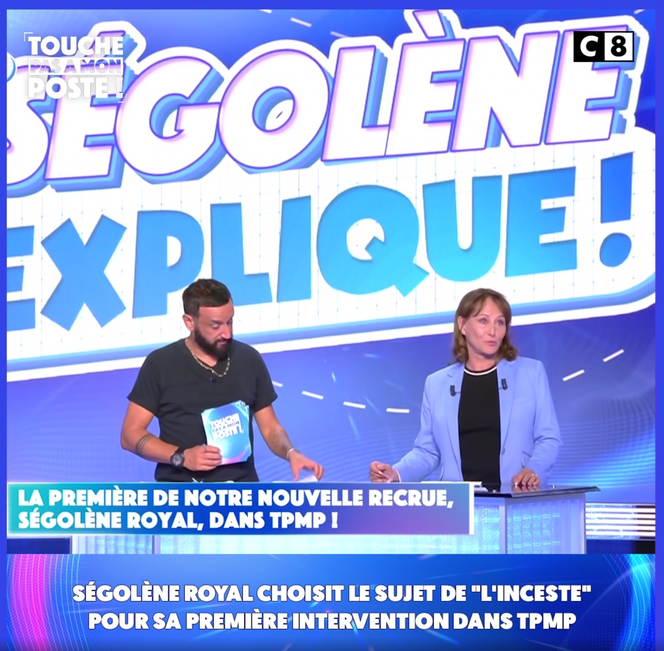 " You remember ? We saw it last week. » Standing behind her desk, Ségolène Royal perfectly plays her role as schoolteacher, this Thursday, September 21, in Cyril Hanouna's show, on C8. Behind his back are the educational boards which support his point; on each, a large general title, broken down into several small bulleted titles, with examples and concrete situations. The sentences are written in capital letters, in blue or red (for important words), on a white background with small school notebook squares.
The tone is academic, the terms are distinctly pronounced; the speaker speaks slowly and takes the time to look at each person in her audience. Opposite, seated in an arc, the nine columnists of "Baba", as the star presenter is nicknamed, religiously listen to the lesson of the day from "Ségolène explains". No more words come out of their mouths, no one insults each other or speaks without being invited. Just before, they sang along to Dorothée's hits from the 1990s – rumor has it she's back for a new record!
Last week, they had just debated for a moment about the video of a couple caught having sex in the toilet of an airplane (had the flight attendant shown professional ethics by opening the door when 'a penger was filming?). We also wondered by what pirouette the former presidential candidate was going to succeed in talking about violence against children, her very first lesson.
Asking this question was, on the one hand, ignoring the great elasticity of "Touche pas à mon poste", probably the only program where one can jump from a story of breastfeeding between adults to child crime, before continuing with "all the tips for getting rid of the tiger mosquito! », all interspersed with ad breaks to catch your breath. On the other hand, it was above all underestimating the talent of the former minister responsible for school education under Jospin in imposing silence in a clroom.
Relatively impeccable interventions
She was already teaching, thirty-four years ago, by promoting her book The fed up of baby zappers (Robert Laffont). In a 1989 interview judiciously put forward on September 14 by the INA, the then MP and mother of three children pushed a "cry of revolt" against television: "How can you do so mediocre with so much money? »wondered the 36-year-old socialist elected official, believing that "those who control television are image merchants" and "the viewer is trapped". A generation later, it is difficult to know who is more trapped between Ségolène Royal, the viewer, Cyril Hanouna and public opinion in general.
You have 43.73% of this article left to read. The rest is reserved for subscribers.