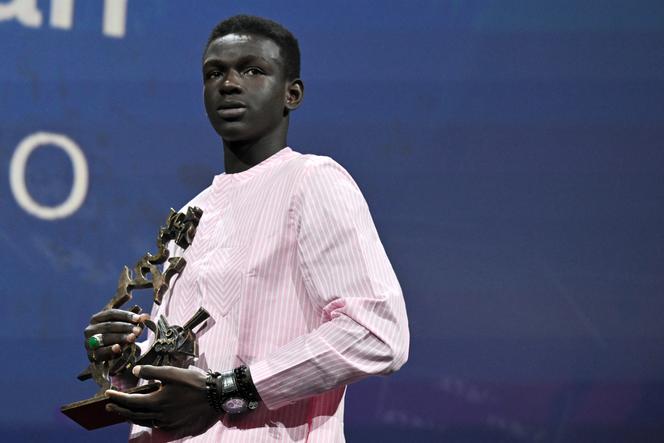 Dressed in a splendid basin with pink and white stripes, Seydou Sarr goes on stage at the Venice Cinema Palace in tears, Saturday September 9. He just won the Most Promising Actor Award for his role in the film. I, Captain, by Matteo Garrone. The 18-year-old Senegalese is the new revelation of the 80e edition of the Venice Film Festival. Visibly destabilized, he utters a few words: "Thank you, thank you everyone, I'm so happy… I have no words. »
A year ago, the actor was still living in Dakar, where, like many of his comrades, "he dreamed of being a footballer", says her older sister, Ndeye Sarr, interviewed by The World Africa. He does not plan an artistic career, but is still sensitive to the performing arts: it is the pion of his mother, who taught drama at the cultural center of Thiès, 60 km to the east from Dakar. "He received this gift from our mother"adds Ndeye Sarr. "She taught me singing and a taste for music. I probably owe him even more than I thought before this award"confessed the actor to the journalists present during the press conference.
However, Seydou Sarr has never taken any acting lessons when he goes to an audition. An Italian director is looking for non-professionals to star in his next film: it's Matteo Garrone, and he chooses Seydou Sarr.
In what will become Me, Captain, the young man plays a Senegalese illegally migrating to Italy. Alongside Moustapha Fall (who plays the character of Moussa), he encounters the mercilessly hostile desert and smugglers who are no less hostile. On their infernal road, they land in Libya – "You are in Libya, you either have money or you go to prison"a man informs him –, cross there the horror of detention centers and suffer torture.
Discover the world
Seydou and his companion Moussa are not fleeing a civil war. They are simply two young people like so many others who want to discover the world. And become famous rappers: "The white people will come and ask us for our autographs", Seydou said to Moussa. It's their dream, but once they arrive in Libya, the real trouble begins. The work is based on authentic testimonies and real-life stories. In particular that of Koui Pli Adama Mamadou, a young Ivorian who fled to escape hunger and the civil war which tore his country apart until 2011 and who today works as an intercultural mediator in Italy.
However, the odyssey of which Seydou proclaims himself the "captain" goes beyond the documentary, carrying a dimension not devoid of phantasmagorical abstraction, like the epics of ancient Greece told by Homer. This dimension is even umed by Matteo Garrone, to whom we owe a cinematographic adaptation of Pinocchio, in 2019. "There are a lot of Pinocchios in Seydou and Moussa's journey: they too want to go to what they dream of being the Land of Toys and will discover, despite themselves, the violence of a world populated by evil predators"confided the director to the Italian magazine Ciak.
For Seydou Sarr, the filming was in every way initiatory. If his character has the same name as him, their trajectories have nothing in common. The young actor never considered migrating to Europe and admitted to having previously " no real awareness of the risks and suffering that such a crossing of the desert and the sea, strewn with atrocities and sordid tragedies, could represent. It's a much clearer path than that of his character which opens up to him after this prize at the Venice Film Festival.