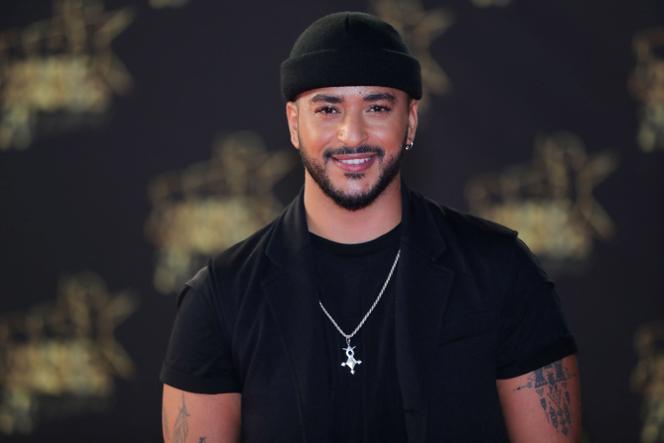 After two big disappointments at Eurovision with beginner or emerging artists, France is banking on a new strategy with Slimane for the 2024 edition, a singer with an established career in France. The 34-year-old French artist announced the information on his social networks on Wednesday November 8. "For my parents, for my daughter, for France, for you…"he wrote in a message accompanied by the hashtag #Eurovision2024.
Slimane can boast of prominent titles: more than 30 million streams for "Thousands of I love you" on Spotify, the leading platform in the music streaming market. During his duo with the singer Vitaa, who also now plays solo, he even topped the album sales ranking in France in 2020 with their opus Versus. Their title " It comes and goes " allowed them to win a Victoire de la Musique that year in the original song category.
Slimane began to make a name for himself in France by winning the talent show "The Voice" in 2016. He will perform on Wednesday evening on the 8 p.m. TV news on France 2 " My love "title which will represent France at Eurovision in Malmö, Sweden, from May 7 to 11, 2024.
16e competition place in 2023
France therefore relies on an artist "which is already in the hearts of the French and at the heart of a great career", as Alexandra Redde-Amiel, head of the French delegation, also director of entertainment and games at France Télévisions, revealed to a handful of journalists. In 2009, France chose Patricia Kaas, well known, but whose career peak dates back to the 1980s and 1990s. She only took number 8e competition place.
In recent history, since the beautiful journey of Barbara Pravi, who finished 2e in 2021, France is disillusioned. Alvan & Ahez, emerging artists like her from the vote of a jury and the public, in use in recent years in France, finished 24e and penultimate in 2022.
La Zarra, Quebecois, choice endorsed (like Slimane) by Alexandra Redde-Amiel without a vote from the public or the jury, finished 16e of the competition in 2023, with a controversy to boot. The singer defended herself from having given the finger to the cameras at the time of the final counting of points, arguing "gesture of disappointment that we use between friends"according to comments given to newspaper website 20 minutes.
163 million viewers
France's battle plan this year is clearly inspired by that of Sweden, victorious last year thanks to singer Loreenalready crowned in 2012. "Loreen was already very well known in Sweden and in this case, the country is more supportive of its candidate to chart an international route"deciphered Alexandra Redde-Amiel.
France also decided this time to reveal its candidate very early. The choice of La Zarra, at the start of his career in music, was only made public in mid-January and his song " Obviously " broadcast only in mid-February. Stéphane Chiffre, head of Eurofans France taken into confidence at the same time as the journalists, welcomes the choice: "Slimane is very well known, very loved, it's a first to have an artist at the heart of a career, announced very early, we can't wait to see what happens next. » France has not won Eurovision since Marie Myriam in 1977.
Sweden, seven times victorious at Eurovision, will therefore host the competition in 2024, the year of fifty years since its first success with "Waterloo", from the legendary group ABBA. The 2023 edition of the competition was watched by 162 million viewers worldwide, according to BBC figures.