Smile! The movie The Asada Family will be released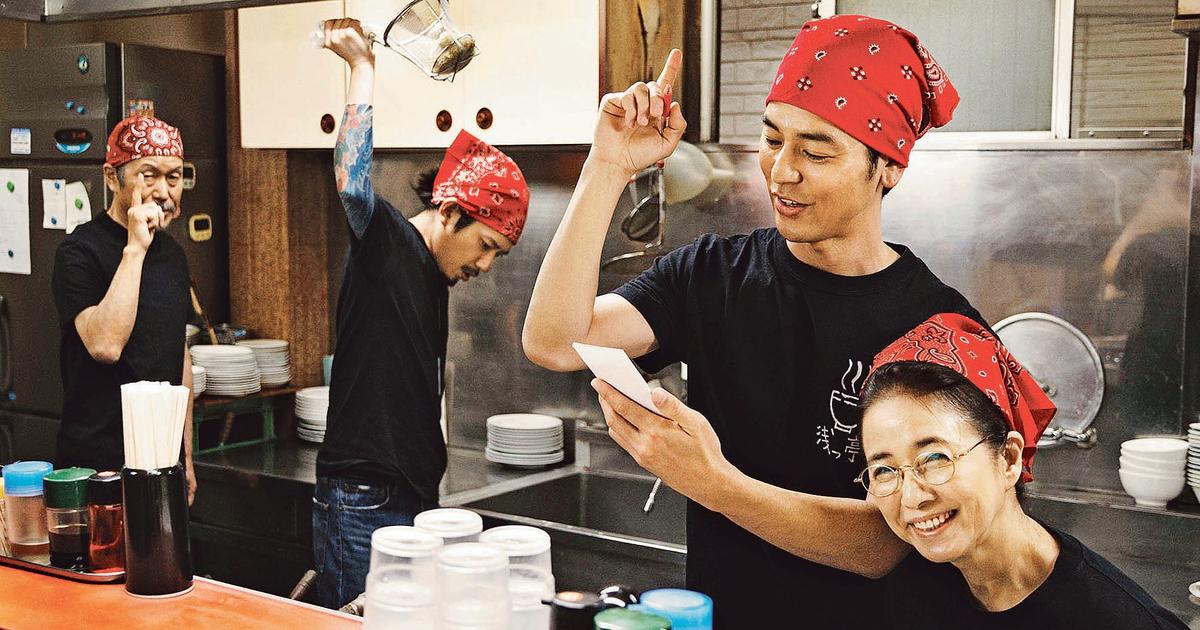 REVIEW – A Japanese boy becomes famous by photographing his loved ones before setting off in search of those missing from the 2011 tsunami. An unusually sweet film.
Afterwards, it was the gear. For his 12th birthday, he was offered a Nikon F1. Since then, the youngest son of the family has not stopped machine-gunning everything around him. His parents had the blessed wisdom not to interfere with his vocation. Masashi enrolled in a special school in Osaka. It's the job that comes in. The boy came back with bleached hair and tattooed arms. We don't know what to do with him. He bickers with his brother. A silly idea comes to mind. He will take his loved ones in various accoutrements, in the situations of their choice.
So here are the Asada as firefighters, yakuzas, footballers, restaurateurs. They also appear in diving suits, with the paraphernalia of burglars or in superhero outfits (a bit flabby, the heroes in question). This initiative turns them into celebrities. You have to find a publisher to bring all these shots together. And an exhibition? If a gallery hosted all these group portraits?
This is the first part of this delicate film, of an unusual sweetness, with something touching, everyday

Very quickly, customers are jostling in front of Masashi's lens. There are couples. They smile under a shower of cherry blossoms. A child with cancer is immortalized. Such is the first part of this delicate film, of an unusual sweetness, with something touching, everyday. The story changes with the 2011 tsunami.
Intimate pictures
Masashi walks his silhouette through devastated landscapes, heaps of scrap metal, piles of materials that are no longer usable, torrents of dried mud. Volunteers have undertaken to save the photographs found in the rubble. It is a question of cleaning them, drying them, displaying them in the sight of passers-by overwhelmed with incomprehension and grief. We lend them premises. The old albums are all warped. All these tattered destinies, these people whose names we don't know. Small miracles happen. Sometimes a curious person recognizes a sister, a friend. The emotion then bursts.
Read alsoAmong the most anticipated films of 2023, the new Miyazaki still holds many mysteries
Conversely, a fanatic criticizes the cleaners for meddling in what does not concern them. The camera lingers on the meticulousness of the gestures, shows this fight against the useless. It's nothing, just a few intimate images, moments captured by the camera. We must identify these faces, connect these destinies. This craft repairs memories, heals relationships, pushes death away.
The film is of a confusing simplicity, of a tender obviousness. Suddenly the roar of the world is kept at bay. What rest! Masashi's father suffers a stroke the moment he blows out the candles on his birthday cake. There will be a funeral. There will remain these prints on matte paper, the only way to fight against oblivion. They are not soulless.
The Asada Family not lacking either. Thanks to this chronicle, which seems to be whispered, we say to ourselves that sadness is a Japanese feeling.
The rating of Figaro: 2.5/4