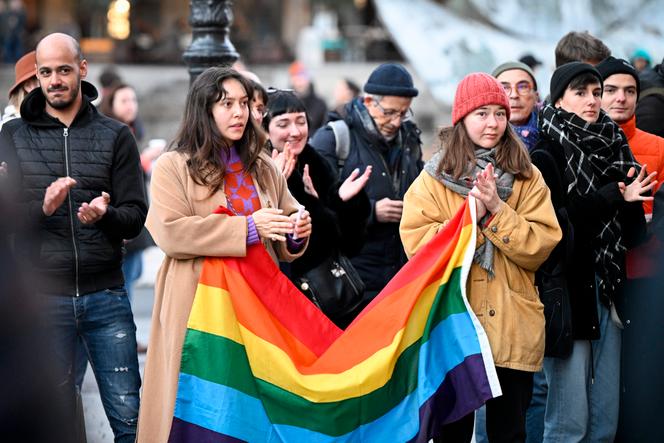 This year, a tribute to Lucas, young schoolboy "who ended his life in January, after being the victim of LGBTIphobe hatred and school bullying", appears in the preamble to the annual report of the ociation SOS phobia, made public on Tuesday, May 16. The fate of the 13-year-old boy, who committed suicide on January 7 after being the target of phobic insults, shows, in the most dramatic way, the consequences of the ordinary phobia which is still expressed and still in France, as evidenced by this annual barometer.
In 2022, the ociation collected 1,506 testimonials, referring to 1,195 cases of "LGBTphobia", a stable number compared to 2021. As we celebrate 10 years of the law opening up marriage to people of the same sex , "even today many LGBT people still cannot live freely, simply be themselves"denounces Joël Deumier, co-president of SOS phobia, underlining an inventory "alarming". "Despite recent progress in the law and also an evolution of mentalities, we see the persistence of phobic and transphobic acts, which are expressed in a violent way"he warns.
At the top of the spaces where hatred is expressed are the Internet and social networks, the family, then businesses and services, followed closely by public places. Rejection, insults and harment are the most frequent forms of expression. A total of 184 cases of physical attacks are recorded in the report, an increase of 28% compared to 2021, which amounts to "a physical attack every two days", points out Mr. Deumier. For such acts, "public places are a privileged context (38%), but the intimate settings of the family and the neighborhood come just after (18% and 17%)"says the document.
As they do with each edition, the authors of the report, volunteer activists, take care to recall that the testimonies they report and the number of cases recorded only reveal part of the reality. Very often, those who are victims of these acts remain silent.
Resurgence of "ambush"
For two years, the ociation has been emphasizing an alarming trend: that of the increase in situations of transphobia reported to it on its help line and its other systems. Although the number of cases remains very low (227), their increase is a challenge: + 27% compared to 2021, which already recorded an increase of + 35% compared to 2020. Despite the adoption, in the fall of 2021, of the so-called Blanquer circular "for a better consideration of issues relating to gender identity in the school environment", the report once again relays the testimonies of young people confronted with incomprehension, even hostility, from educational staff. Reactions that also manifest themselves in the world of work and within families, which leads SOS phobia to plead in favor of a change of outlook "systemic" on trans people.
You have 36.89% of this article left to read. The following is for subscribers only.