Spain (again) smashes blue dreams in Euro final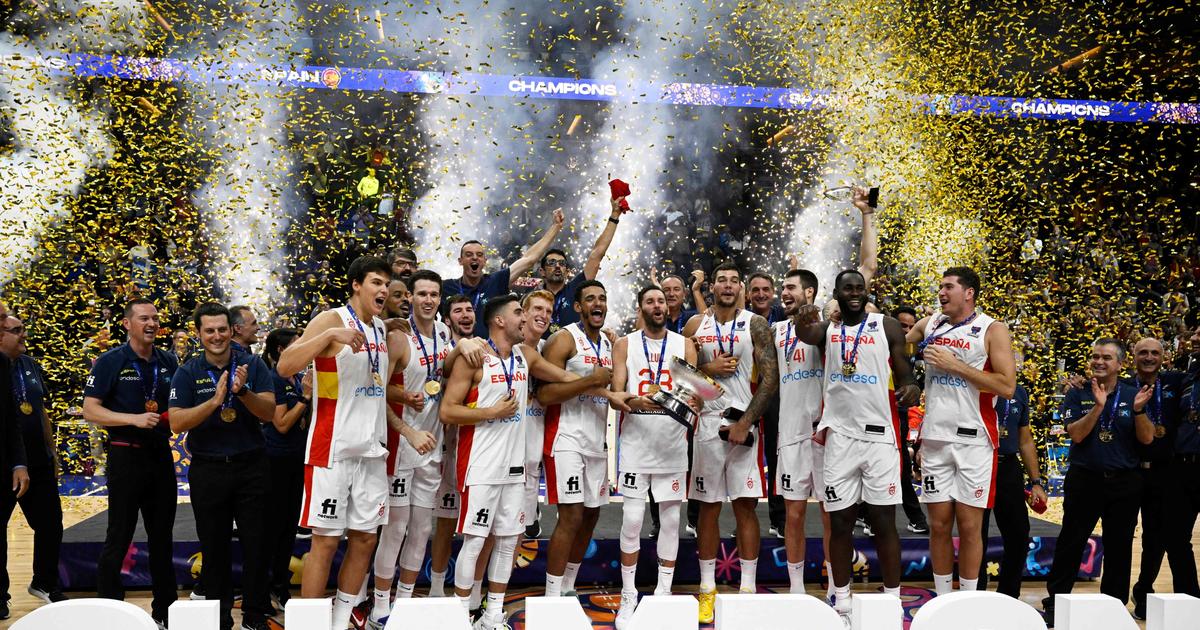 Brilliant, the Spanish team dominated France in the EuroBasket final this Sunday in Berlin. Fourth continental title for La Roja.
Cruel disappointment for the Blues. In search of a second European title after that of 2013, Vincent Collet's players took a basketball lesson from a brilliant Spain, sure of its strengths and its collective (88-76). Led by the Hernangomez brothers (27 pts for Juancho and 14 for Willy, MVP of the tournament) and naturalized leader Lorenzo Brown (14 pts, 11 wt), La Roja won its fourth Euro title and succeeded Slovenia. "We had some good streaks, but it wasn't enough"Summarizes Rudy Gobert (6 pts, 6 rbs). A revamped Spain, rejuvenated, brand new, but based on a game perfectly mastered by maestro Scariolo. The Gasol brothers are gone, Sergio Rodriguez, Ricky Rubio, Sergio Llull are no longer there either. The collective remains. Impressive. The Blues, a short time of 21 points but returned to -3 after the break, lost 19 balls (which led to 35 Spanish points) and overall their means. 23 points for Evan Fournier, tricolor top scorer. 16 for Thomas Heurtel, 13 for Gerschon Yabusele, who took a long time to start and lost four balls.
A tense start to the match on both sides, with finicky referees and the Spaniards who were the first to free themselves on the offensive level (14-5). Which Spaniards soon recited their basketball and muzzled the Blues who multiplied the faults, the loss of the ball and the missed shots (20-9, then 23-14 at the end of 1st QT). Waking up soon? Not really. Spain unrolled and France sank, lost, like this passage in zone sanctioned by Juancho Hernangomez, author of four winning shots in a row (35-16, then 41-22). Unplayable. Willy's brother reached the break with 18 points, 6/7 from three points. And if it is Juancho, it is his brother Willy who gave nightmares to the Habs (47-26). Tarpey sounded the charge in defense, Fournier woke up in attack and it's -10 at the break (47-37 MT). Cheap paid knowing that La Roja scored 22 points out of 10 French ball losses. "We started to put the intensity and play in the 17th minute", thundered Pascal Donnadieu, deputy of Collet, on Canal +, claiming to"get into them".
No feedback
France confirmed their renewed form on the restart and Yabusele finally broke free with three baskets in a row (49-46), but each error was paid for in cash against the Iberian machine (61-48). Elie Okobo (9 pts) dropped the horses (63-57), but Spain was still at +9 at the start of the last quarter (66-57). Last quarter marked by a refereeing error that cracked Scariolo (68-61), but did not deflect Juancho Hernangomez from his trajectory (71-61), while Tarpey paid for his efforts, boiled, cooked hard (75-63). Spain was just too strong. In addition, Fournier took his fourth foul. The minutes were ticking by, no miracle in sight, no comeback. The time of regrets, taste of unfinished business (88-76 final score). "It hurts"Yabusele squeaks, not in the mood to savor another medal after bronze at the 2019 World Cup and silver at the Tokyo Games last year. The Habs, however, show a crazy constancy. "We wanted the gold. So close... It's hard... It's hard to let this pass"Blows Gobert, who will return to the United States before thinking about the 2023 World Cup and the 2024 Olympics in Paris.