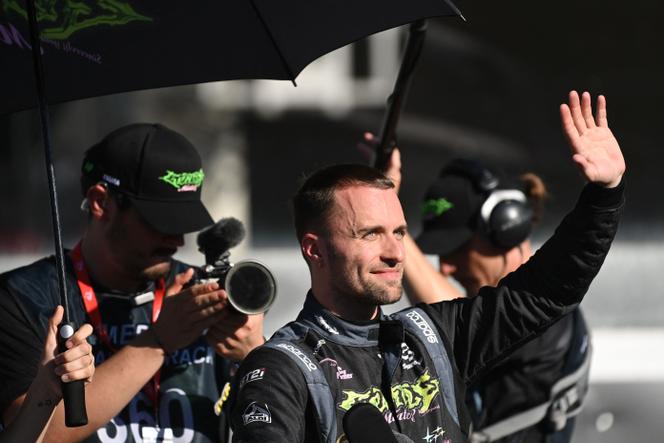 Three days. This is the time it took for the influencer Squeezie to denounce the mive sexist cyber-harment suffered by his partner Manon Lanza during the Explorer 2 Grand Prix (GP), Formula 4 race ( F4) – bringing together 24 influencers, rappers and influencers he initiated.
Saturday September 9, during the second lap on the Bugatti circuit in Le Mans (Sarthe), an accident between the videographer (who was racing for the Alpine team) and the YouTuber Maxime Biaggi (Mouv' radio team) interrupted the race and forced both competitors to forfeit. Manon Lanza, board sports specialist with her channel "Let's ride", evacuated by ambulance, explained Monday to Parisian doing well but suffering from chest shock and cervical hernia.
But it was another road trip that marred the race broadcast live on Squeezie's Twitch channel, breaking a French audience record on the platform with a peak of more than 1.3 million people connected. Off the road, on social networks and in particular on X (formerly Twitter), many Internet users violently attacked Manon Lanza, making her responsible for the accident, a relatively common event in motor sports. A mive raid, full of sexist comments, regretting in particular that several women took part in the competition.
The responsibility of the organizers in question
As of Monday, feminist organizations and organizations fighting against cyber-harment were outraged by the silence of male participants on their social accounts in the face of the situation in which their comrade found himself. The collective #NousToutes has called for, in a post on Instagram the responsibility of organizers of online events to protect women participants and stop misogynistic harment.
Squeezie, the most followed YouTuber in France, has in the past been praised several times for his speaking out on harment. Surprisingly discreet this time, he finally spoke on Tuesday in a live video on Twitch to defend Manon Lanza. He notes there "a gap between the number of messages received by [lui] » when he is at the heart of a controversy « and the number of messages received by Manon […] A huge gap in the quantity of messages received and in the form of the messages".
Cyber-harment against Manon Lanza is not an isolated case. Many videographers and streamers on Twitch have had to denounce the intense hateful behavior of which they are regularly the target. The videographer, pionate about extreme sports, also deplored, to the Parisianthe content of the messages received: "If the same thing had happened to a man, there would never have been such comments. We don't tell Lewis Hamilton "go back to your kitchen!" »