"Stéphane is a teaser and Karine our godmother at heart"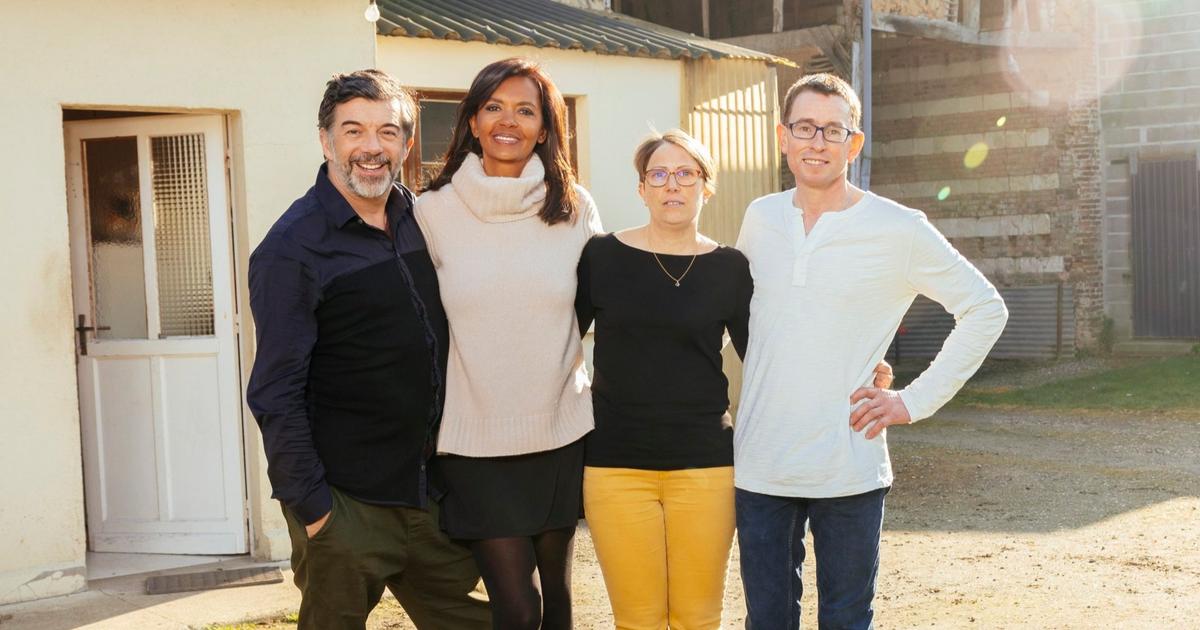 INTERVIEW. - The real estate agent helped the farmer and his partner Stephanie find a house through the facilitator.
Karine Le Marchand does more than help farmers find their soul mate in "Love is in the meadow". The proof: while Hervé and Stéphanie, mythical couple of the last season of the dating show of M6were looking for accommodation after the filming of the balance sheet, the host simply called her friend Stephane Plaza to come to the rescue of the young couple. The latter therefore left for Picardy to try to find the pretty nest that will house the lovebirds, a sequence to discover this Friday, September 16 in "Looking for apartment or house". Hervé, who took advantage of the show to surprise his beloved, confides in this unprecedented experience.
Read also"He needed a quieter, less turbulent life": Mathieu and Alexandre of "Love is in the meadow" divorce
TV MAGAZINE. - How did you end up taking part in "Recherche maison ou appartement"?
Herve. - During the review of "Love is in the meadow" just a year ago, we confided in Karine Le Marchand about our projects. All succeeded except that of finding land to build a house. She had the idea of ​​calling her friend Stéphane Plaza to ask him if he would agree to help us. And he said yes: that's how we ended up shooting a second show!
Were you a regular at this program?
We watch but we never would have thought to participate! It was a big surprise. At the time, we were in euphoria before realizing that we had left to shoot a second show. And we don't regret it.
"With Stéphane Plaza, we met for the first time in front of the cameras"

Herve
How was your meeting with Stéphane Plaza?
A bit like with Karine, we were directly in the bath. We first met in front of the cameras while visiting a house. Stéphane is a teaser, he's funny for sure, but he speaks a little loudly (laughs).
What were your criteria for your future home?
First of all the distance because I have animals on the farm. So I had to be not far to take care of it, 7 kilometers at the most. I also warned Stéphane that it was not going to be easy because we live in the countryside and that the proposals for houses in the region are quite limited. The second criterion was finances. Our budget was a maximum of 245,000 euros. Stephanie also wanted a bedroom and a bathroom on the ground floor and a house without work. So that made a lot of demands.
Read also"Love is in the meadow": a candidate surprises the production by taking an extremely rare decision
How were the visits?
We first discovered three houses but we were not charmed and none were retained. One had works, the other was fine but it only contained one garage and we didn't feel it. The third was too big and had 3000 m2 of garden. It was too much housekeeping and maintenance. We wanted a home but not huge either. Then we made a fourth visit and this time it was the right one. We both fell in love with the house.
Karine Le Marchand even came to see it once you had moved in...
It was in the continuity of our history. She put us in contact with Stéphane Plaza and she came to see if he had done his job well (laughs). It was a nice surprise because Karine is not just anyone...
"Karine Le Marchand is our godmother of heart, of our love, of our meeting"

Herve
What does she represent for you?
Karine is our heartfelt godmother, godmother of our love and of our encounter. We are in contact on Instagram, we follow each other.
Karine Le Marchand and Stéphane Plaza met at your place, how are they together?
Between them, they form a beautiful couple of humor, they know how to set the mood. They are friends on screen but also in private.
Read alsoKarine Le Marchand: "I have the feeling that people know who I really am"
Bernadette, your mother, is also present on the show...
Yes, she found herself embroiled in this. Karine and Stéphane came to the farm to pick her up so that she could visit the house. She also cooked for us.
During this meal, and while your mother was in the kitchen, you asked, by surprise, for Stephanie's hand. Why did you choose this moment?
Karine and Stéphane were there, it was an opportunity. There were also cameras. I thought: let's be crazy, make the request, we'll see what she says! Now we have the pictures so it's also nice for us.
"We want to have a baby, it's our priority because we are old enough for that"

Herve
When did you finally break the news to your mom?
We got our parents together a few days later and I officially proposed to them.
Do you already have a date for the ceremony?
No, we have not chosen a date. We have another project ahead. We want to have a baby, it's our priority because we have the age for that.
You participate in "Love seen from the meadow", how did you experience it?
By following the participants, we found similarities with our story. We experienced the same thing as some. Meeting times are always moving. And then, we were also happy to see the episodes in advance!