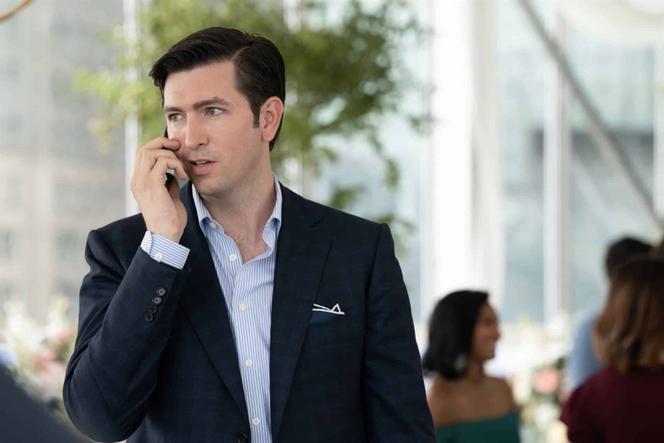 Just last week, we laughed wickedly at the spectacle of the vanity of the ultra-rich. There tailgate party ("tailgate") the Roys gave in Shiv and Tom's New York apartment on the eve of the US presidential election was like a greenhouse where the worst traits of humanity flourished – greed, lies, cruelty… The list is much longer than that of the deadly sins. At least this baseness only affected the members of the caste from which Kendall, Roman and Shiv came and one could console oneself by saying that the rich were not ultimately happier than the others.
Since then, a week has ped for ordinary mortals, twenty hours for the characters of Succession that we find in this eighth episode (there are two to come), entitled America Decides ("America's Choice"), late afternoon on the first Tuesday in November. Jesse Armstrong, the creator of the series, is also the scriptwriter of this long episode which concentrates in sixty-five minutes the few hours it takes for democracy to waver and – probably – sink.
Boss of ATN, the continuous news channel of the Waystar group, Tom Wambsgans (Matthew Macfadyen), flanked by cousin Greg (Nicholas Braun) is preparing to lead his "first post-Logan election night". Theoretically, the trio of heirs does not have the right to descend on the set, in order to respect the independence of the editorial staff of ATN. To give himself heart to the work, Tom martyrs his cousin from whom he subtracts a few decigrams of cocaine, which will make it possible to demonstrate later in the evening that Sherlock Holmes' favorite narcotic does not bring any additional courage.
idealism and cynicism
On the upper floors, the Roy children pretend to argue over the substance of the debate. Shiv defends the Democratic candidate, Daniel Jimenez, against the sarcasm of Roman, who wants to put all the power of ATN behind the Republican Jeryd Mencken (Justin Kirk). The flaunted idealism of Logan Roy's unloved daughter and the caricatural cynicism of her younger brother rest on the same foundation, money. Shiv wants the victory of Jimenez, essential to the takeover of Waystar by Lukas Matsson, with whom she concluded an alliance without the knowledge of her brothers. Jeryd Mencken appeals to Roman because the populist nominee was chosen by Logan, will be beholden to the clan throughout his tenure, and one of his first steps will be to scupper GoJo's takeover of Waystar. , Lukas Matsson's streaming platform.
You have 51.03% of this article left to read. The following is for subscribers only.