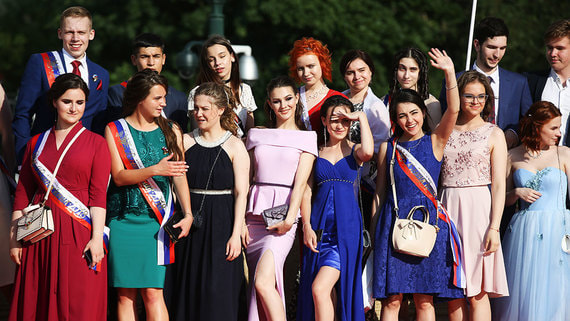 Russian parents spoke about an almost twofold increase in the cost of organizing graduation parties compared to 2019, follows from the results of a study by the Superjob service, writes RBC. The survey involved 3,000 parents of 9th and 11th grade graduates from 501 regions of Russia.
According to the results of the study, on average in Russia, parents spend about 10,500 rubles on graduation of children in the 9th grade, which is almost two times higher compared to 2019 (5,900 rubles) by 500 rubles. more than last year (10,000 rubles). At the same time, in Moscow and St. Petersburg, holiday expenses exceed the average values ​​throughout Russia (12,500 and 11,000 rubles, respectively).
Graduation in the 11th grade costs parents an average of 16,500 rubles, which is one and a half times more than in 2019, when the cost was about 11,900 rubles. The cost also increased compared to last year, when graduation in grade 11 cost 15,000 rubles. On average, graduation in Moscow and St. Petersburg costs parents 19,000 and 18,000 rubles. respectively.
At the same time, parents' expenses for graduation dresses increased by 15% compared to 2019. In particular, a suit for a graduate of grade 11 now costs about 17,000 rubles, for a graduate – 16,500 rubles. In Moscow, the cost is higher and averages 18,500 rubles. In St. Petersburg, expenses turned out to be lower than the Russian average – but only for graduates (12,500 rubles), and for graduates, an outfit will cost an average of 17,500 rubles.
It is specified that this year 55% of parents of ninth-graders decided not to buy graduation dresses for their children. Among the parents of 11th grade graduates, this figure is lower (26%), and the parents spoke about the decision not to buy a suit for a boy in 17% of cases, for a girl – in 9%.
This year, graduation parties for 11th grade students will be held on June 23-24, and the last bell will take place on May 22-23. Earlier it became known that in a number of settlements the last calls will be made in a remote format. In particular, the Minister of Education of the Belgorod Region Andrey Milekhin said that the last call would not take place for graduates of schools located 15 km from the border with Ukraine. The event will be held remotely. For 11th grade graduates from other districts, the last call can be held in person.