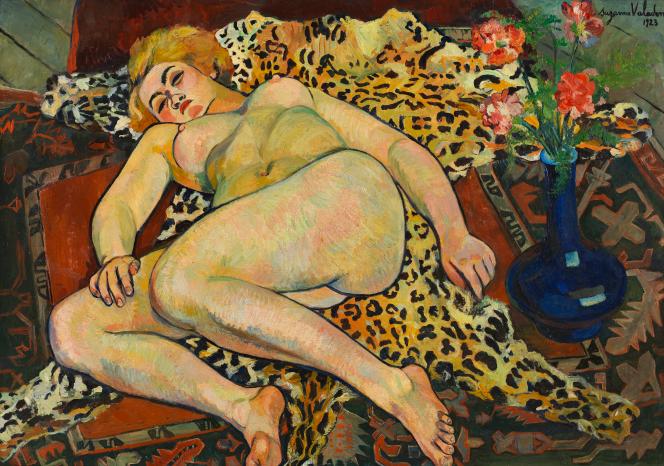 Among the painters of her time, Suzanne Valadon (1865-1938) is an exception. The artist is the subject of an exhibition at the Center Pompidou-Metz, after a previous one at the Barnes Foundation, in Philadelphia, in the United States, in 2022, which had the subtitle "Model, Painter, Rebel" ( "Model, painter, rebel"). It was a good way to characterize the artist, more explicit than "A world of one's own", an allusion to Virginia Woolf, with the subtitle Messin.
Because Suzanne Valadon has, among other singularities, that of having entered the world of art not as an autodidact or a student of the Fine Arts, but as a model. Born Marie-Clémentine, of an unknown father, near Limoges, she came to Montmartre very young, with her mother, a seamstress. In the early 1880s, after various odd jobs, she performed briefly in a circus as a tze artist, then, having injured herself, became a model.
Her beauty and her endurance to hold the pose made her first notoriety. She then calls herself Maria. Pierre Puvis de Chavannes is one of his most regular employers, for the male figures in his monumental compositions as much as for the female ones. Academics, such as Jean-Jacques Henner, model their nymphs according to its anatomy. Simultaneously, from 1882, she posed for modern artists, including Auguste Renoir, Théophile Steinlen and Henri de Toulouse-Lautrec. The latter, her lover from 1884 to 1888, renamed her Suzanne, because, like the biblical Suzanne, she appeared naked in front of old men. It is also the time when she has a son, Maurice, born in 1883, from her affair with the Spanish journalist Miquel Utrillo (1862-1934).
Recognized by Degas
She then began to draw, then to paint: while posing, she observed, learned and then tried her hand at nudes and portraits. For her artistic training, she looked at Puvis, Renoir and Lautrec, whose styles were different to say the least. But this apprenticeship is not enough to explain the sharpness of his line, which defines the figure in long continuous lines, nor his way of removing or reducing to very little what is accessory – objects or furniture. His mastery is soon recognized by Degas, a man famous for his bad character, his misogyny and the severity of his judgments.
In the second half of the 1890s, they saw each other often and the painter, adopting him so to speak as his only pupil, then helped him to perfect his skills in the field of engraving. Less and less a model, more and more an artist, she has a time for lover Erik Satie, who despairs when she leaves him. In 1896, she married a wealthy proxy: she could now paint tirelessly. She never stopped until her death, despite family accidents in her private life, including the chronic alcoholism of her son, Maurice Utrillo.
You have 57.21% of this article left to read. The following is for subscribers only.