Talks between Putin and Assad lasted three hours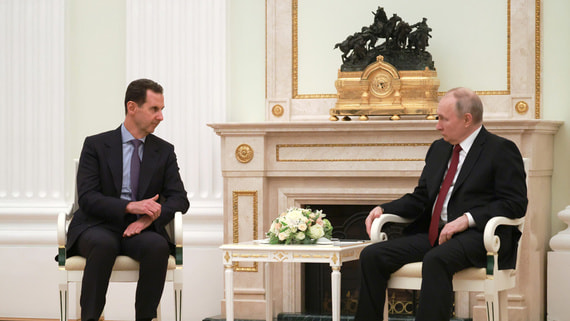 The talks between Russian President Vladimir Putin and Syrian President Bashar al-Assad ended at about 20:00 Moscow time, Russian Presidential Press Secretary Dmitry Peskov told TASS. The total duration of the interview was three hours.
"Yes. 30 min. back," the Kremlin spokesman said when asked if the meeting between Putin and Assad had ended. Negotiations between the two leaders began after 17:00 Moscow time.
Earlier in the day, Peskov clarified that the Kremlin expected the start of Russian-Syrian negotiations as part of delegations after 15:00 Moscow time, and then negotiations between Putin and Assad. "The two presidents will talk face to face," the spokesman said.
On March 15, Putin and Assad held talks in the Kremlin. During the open part of the meeting, the Russian president stressed that relations between Russia and Syria are constantly developing, and the leaders of the states are in constant contact. In particular, Putin drew attention to the increase in trade between Russia and Syria by 7% in 2022. Assad also noted that his visit to Moscow "will open up a new aspect in our relationship for the future."
The Russian President also drew attention to the efforts of the two countries in the fight against international terrorism. Assad, in turn, expressed support for Russia in the special operation in Ukraine and thanked for the help in eliminating the consequences of the earthquakes that occurred in early February.
Assad arrived in Moscow the day before, March 14. On the same day, the Kremlin announced the meeting of the presidents on March 15. It was reported that the topics for discussion will be the further development of Russian-Syrian cooperation in the political, trade, economic and humanitarian spheres, as well as the prospects for a comprehensive settlement of the situation in and around Syria.
Putin last met with Assad in Moscow in September 2021. Then the Russian leader congratulated the Syrian president on his election victory. The heads of state also discussed the political situation in Syria, the fight against international terrorism and issues of humanitarian cooperation.