Tesla conquering the electric truck market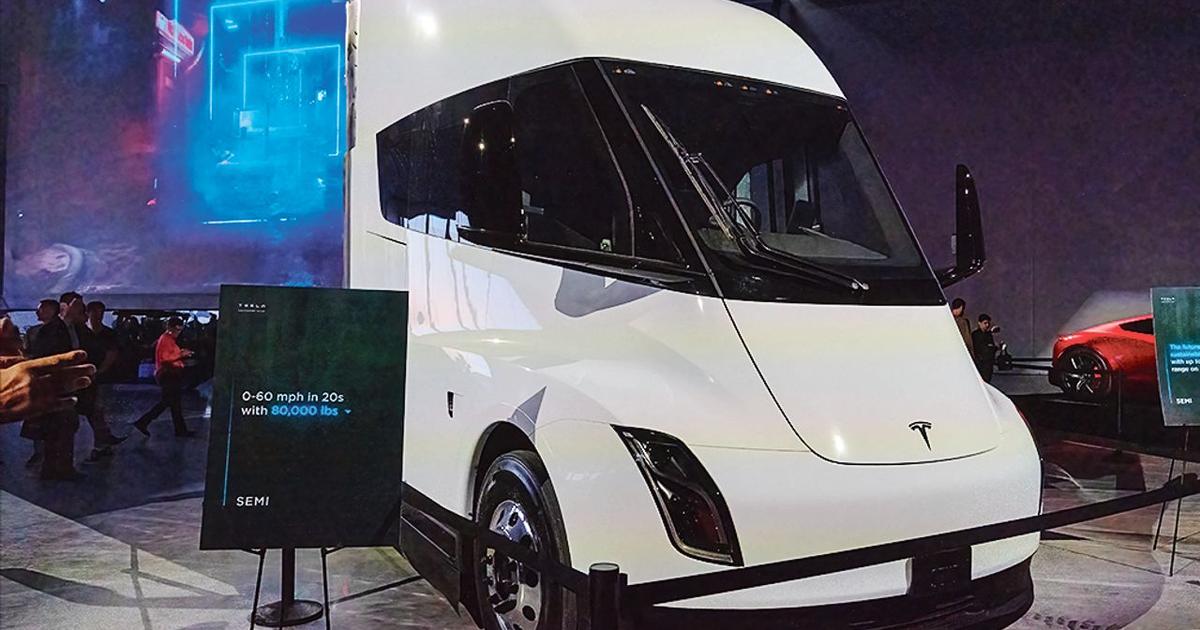 The American manufacturer, victorious in the automobile, delivers its first battery-powered truck delivered to PepsiCo.
After conquering the entire planet with its electric cars, You're here wants to repeat the feat with its first electric truck. The "Semi", the name of this super "tractor", will be delivered this Thursday to PepsiCo, its first customer. Elon Musk will personally hand over the keys to this funny truck to representatives of the beverage giant at the Sparks (Nevada) plant where it was assembled.
Unlike the majority of manufacturers, Tesla is attacking the truck market through the segment of large trucks, and not through that of vans which are easier to electrify. Manufacturers have long believed that the alternative to diesel for heavy goods vehicles would more naturally involve hydrogen than batteries, which are necessarily very heavy, to supply large loads. Will Musk convince them otherwise? Little information has been provided by Tesla, but a week ago, Elon Musk said in a tweet that the Semi had just completed a conclusive test. It traveled 800 kilometers (500 miles) without needing to recharge its batteries with a total weight of 37 tons. Elon Musk also claimed that 30 minutes would be enough to recharge 70% of the battery thanks to his superchargers. A feat to be confirmed in real life.
PepsiCo has ordered 100, with the first 15 expected to ship in the coming weeks. Then it will be the turn of Walmart with 130 copies. Tesla, which was two years behind schedule, is expected to reach mass production next year. It plans to assemble 50,000 Semis per year from 2024.
European response
The competitors, in particular the European Volvo and Renault Trucks, Traton, Daimler…, for their part, have reviewed their strategy to meet the needs of European transporters, and to move away from thermal power. And this while 95% of the truck fleet in Europe is still diesel, according to the Association of European Manufacturers (ACEA). They will switch to electric heavy goods vehicles more quickly than expected, following the example of Renault Trucks. "We first launched electric trucks for urban distribution applicationsexplains Olivier Metzger, Director of Alternative Energies at Renault Trucks. Or 16 and 26 ton trucks. Last week, the manufacturer also announced a delivery of 30 of them to… Coca-Cola. The batteries of these vehicles have 200 to 300 kilometers of autonomy. But the Volvo subsidiary will launch electric "tractors" of the same type as Tesla's Semi at the end of next year. "They will weigh 42 tons, including about 3 tons of batteries", explains Olivier Metzger. The payload should be around 25 tons.
One reason for this: the attraction of manufacturers for hydrogen has faded to the extent that it cannot be satisfied immediately. "The ecosystem is not ready. It was necessary to be able to obtain supplies of green hydrogen at a competitive price. This will not be the case before 2030», Believes Olivier Metzger. There remains the issue of price. In 2017, Elon Musk had mentioned a price of 180,000 dollars for the first version of his Semi, offering 500 km of autonomy. But today a diesel "tractor" costs three times less. The conversion to electric is likely to be gradual…