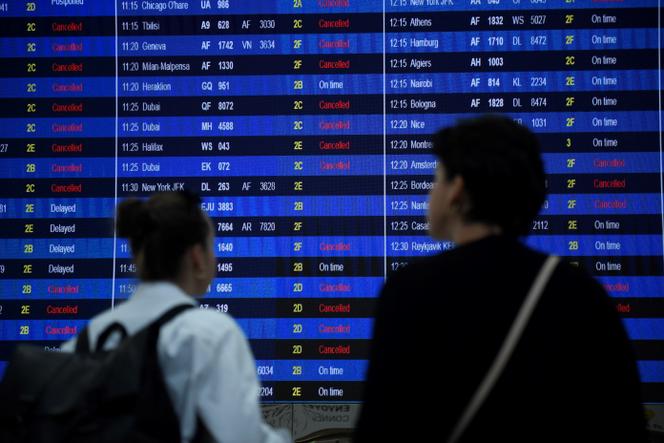 The return to air transport promises to be turbulent. The air traffic controllers are called to cease work on September 15. A twenty-four hour strike notice was filed on Monday, August 28, by the National Union of Air Traffic Controllers (SNCTA), the leading organization of air traffic controllers with more than 60% of the vote, for wage demands.
The SNCTA asks " catching up with inflation and setting up mandatory annual negotiations" on salaries. According to him, the recourse to the strike is only the consequence of the "mutism of the Directorate General of Civil Aviation [DGAC] ». The SNCTA reminds "that French air traffic control, like all European service providers, is governed by European performance plans which provide for inflation compensation". When questioned, the DGAC declined to comment.
It is no coincidence that this social movement intervenes just after returning from the long summer holidays. And in the middle of the Rugby World Cup, a competition organized in France from September 8 to October 28, during which several hundred thousand tourists and other supporters are expected, the majority of whom should arrive in France by plane.
Airline concerns
The SNCTA, which points to the inaction of the DGAC in terms of salary increases while it "was committed to working on the issue for the year 2023 ", wants to put the pressure. The organization, crowned with its victory obtained during the long social conflict against the pension reform, has a good chance of being very followed. At the cost of mobilizing its troops during several strike days, the union had won its showdown against the DGAC and the government. In particular, he had obtained the maintenance of retirement at the age of 59. In addition to the air traffic controllers, the pilots as well as the cabin crew had also succeeded in keeping, after discreet negotiations, their particular pension plans.
This time again, the air traffic controllers' union gives its supervisory authorities time to react. The union had acted in the same way, a year ago, when it was already negotiating a salary agreement and recruitments.
This strike threat is likely to worry the airlines. While traffic is returning to its 2019 levels faster than expected, before the onset of the Covid-19 pandemic, they fear a conflict that would penalize their activity and have significant financial consequences. Indeed, France, due to its geographical position, is the most overflown country in Europe. In the event of a conflict, companies would have to cancel and delay flights or byp France, which would mean reimbursing thousands of pengers or consuming more fuel.
You have 27.13% of this article left to read. The following is for subscribers only.