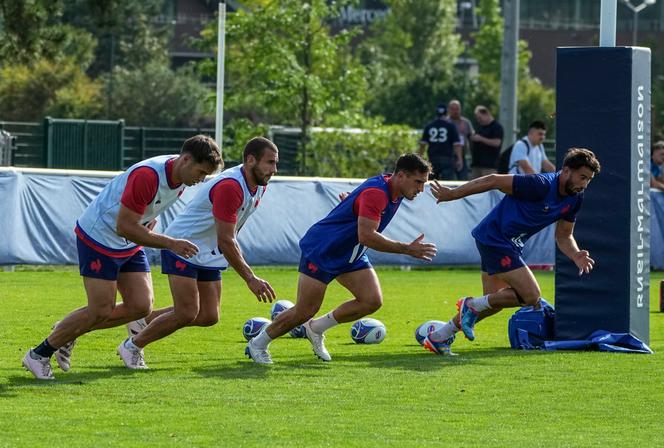 After more than two months of intense preparation, they are there. Friday September 8 (9:15 p.m., on TF1), fifteen Blues in white jerseys will face as many New Zealanders all dressed in black, during the opening match of the 2023 Rugby World Cup, at the Stade de France, in Saint -Denis (Seine-Saint-Denis). "Both teams have been preparing for quite a while. This is the moment when we will be able to let go of everything.said this week, with a smile on his face, the second line Thibaud Flament, auguring"a great battle".
"This match is a kind of watchtower, which signals the start of this competition"believes Fabien Galthié, the tricolor coach, enthusiastic about the idea of "go to the developer" of the All Blacks, as every time the French have found the South Pacific nation on their way. If the statistics are not in favor of his troops (nine defeats in the last ten games), captain Antoine Dupont and his gang have won the last meeting against the Blacksin November 2021 (40-25), and have not forgotten it.
After a decade of brooding, the Blues are back in the fore. "We are where we wanted to be", repeats Galthié frequently. Either among the handful of nations cited in the candidates for the supreme title. uming they want to go far in "their" World Cup, the French players see beyond the opening clash of the tournament, and their ambition is contagious. "Everyone is aware of what is at stake. We all want to do something big, it doesn't hurt to remember that."insists Antoine Dupont.
The French have started from zero
From the arrival of Fabien Galthié at the head of the French men's team at the end of 2019, the Blues climbed the slope before tackling the peaks of Ovalie. The French have started from scratch: the new coach and his sidekick Raphaël Ibañez – general manager of the team – have chosen to put everything back together, in order to solidly rebuild a tricolor rugby that has been struggling for a decade.
"This time, we put the meansobserves former international Thomas Lombard, now general manager of Stade Français. So of course, it costs money but, when you invest in competent people, the results follow. » Around him, Fabien Galthié has aggregated a provided staff, made up of specialists sometimes from elsewhere, such as the Englishman Shaun Edwards, defense expert. The clubs and the French Rugby Federation (FFR) have buried the hatchet, offering the management of the selection ideal conditions for preparing matches. As for the players, they were offered a "project" – of play and of living together – to which everyone had to adhere.
You have 57.45% of this article left to read. The following is for subscribers only.